This month's ham
BX3AH, Mr. Miracle Lin
Mr. Lin was born in Kaohsiung city, in the southern part of Taiwan, in 1970. Now he lives in Taoyuan city, in the northern part of Taiwan, and he actively operates radios almost every day on mainly 14 MHz band in the SSB mode. He loves electronic handicraft and model building. "To understand their mechanism, I really enjoyed assembling and disassembling models again and again when I was a little child." He was especially very much into Japanese TAMIYA remote controlled cars. When he was in the 5th grade, his school teacher told him about amateur radio. Soon he became interested in it and studied amateur radio by himself.
From around 1985, Japanese radios started to be imported into Taiwan, and their technology that enabled our voice to reach the other side of the world attracted people there. Mr. Lin started to listen to amateur radio when he was 15 years old and finally got his license in 1988, when he became 18 years old. "We used to have four levels of amateur radio licenses---from the 4th grade (lowest) to the 1st grade (highest) but the 4th grade was abolished. Examinations are held on Mondays and Fridays at the office of the National Communication Commission (NCC). We don't have seminars to get a license like they do in Japan," said Mr. Lin.
In 2006, he acquired a 1st grade amateur radio license that he had been longed for and established amateur radio station BX3AH. Now he owns an amateur radio distributing company, and he has many radios in his shack----high-grade models such as the IC-7851, IC-7800, and IC-7700, the latest models such as IC-7610 and IC-7300, and D-STAR models such as ID-4100 and ID-5100, and dozens more. His best-loved radios are the IC-7800 and IC-7851.
Mr. Lin said, "Every time a new radio is released, I actually use it to check the performance. Then I tell my customers and dealers about its advantages and attractiveness." He owns a lot of radios, and what is more surprising, most of them are Icom radios. He told us about the reasons as follows: "In Taiwan, Icom's quality seems to be the best in the world. Icom always respects its traditional technology but at the same time, Icom continues to challenge themselves in cutting-edge designs, performance, functions, and user interface. More than anything, Icom radios are very easy to operate. People in Taiwan tend to think that Icom radios are expensive, but when you consider its performance, I think they are worth buying. Another wonderful thing is that they are hardly ever break."
He has two antennas; The CL 20 and 318 C from Japanese antenna maker, Create Design Corporation. His favorite band is the mainstream of DX, the 20-meter band, and his favorite operating mode is the SSB mode. One of the good things about the SSB mode is its open-hearted communication, because we can understand the other operator's feelings through their tone of the voice, he told us. He is also a contester, but he usually doesn't win awards. He said, "The most impressive QSO in my ham radio life is my very first contact. It was with a station in Australia, on the 20-meter, SSB."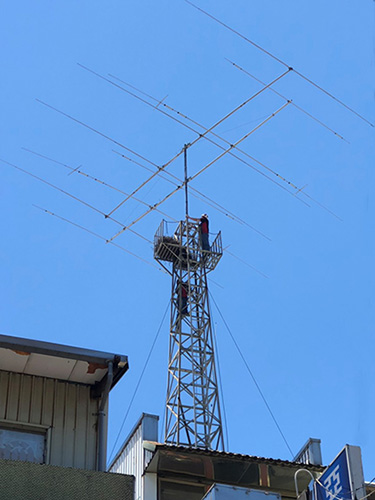 The CL 20 and 318 C from Create Design Corporation
They have little information about amateur radio in Taiwan, so Mr. Lin usually sends away for "CQ ham radio," which is a Japanese popular amateur radio information magazine. He likes articles about new products and their reviews. He told us that even if he doesn't understand the Japanese language, he can read kanji (Chinese characters that Japanese also use) so he can understand 50 ~ 60 % of the articles.
Then we asked about the amateur radio situation in Taiwan. "The population of ham is increasing in Taiwan. The reason is because more and more people have become affluent these days, I think. They operate DX or mobile operation as well as Japanese people. Young people seem to like mobile radios because they are fairly inexpensive. The approximate amateur radio market share in Taiwan is---Icom: 50%, Kenwood: 40%, Yaesu and others: 10%. For the high-grade models, Icom overwhelms other manufacturers," Mr. Lin said with eagerness.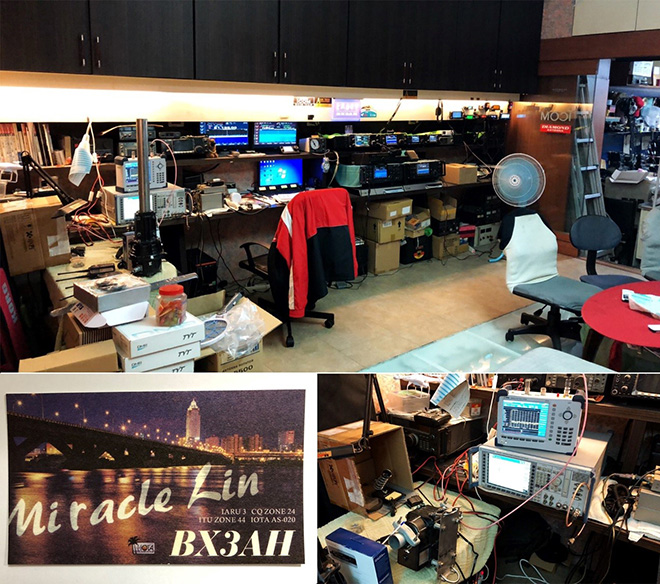 Apart from selling amateur radios, Mr. Lin also actively works on introducing amateur radio's great points to young people or on supporting ways for license acquirement. At last we asked about his desires regarding amateur radio. "I want amateur radio to expand more and more. For that, the radio manufacturers should create not only high-grade models but also normal grade radios at moderate prices. If more reasonably priced radios are put on the market, amateur radio will become more popular," said Mr. Lin.