A "Synchronized to the external reference frequency" function is newly added to the IC-9700
NEWS
Icom Inc. released firmware Version 1.10 of the IC-9700 on June 7th, 2019. Version 1.10 can be downloaded from the Icom website. A total of 8 items are either added or improved from Version 1.06. Refer to the Icom website for details:
http://www.icom.co.jp/world/support/download/firm/
The "Synchronized to the external reference frequency" function can be a particularly useful function in this new version, especially for the VHF/UHF weak signal operators. An external reference frequency input connector is built into the IC-9700, which can be used for critical frequency accuracy, especially while using the 1200 MHz band. When an accurate reference frequency of 10 MHz is input through this connector, the IC-9700 can be operated with same accuracy. Before this update, manual synchronizing was needed after warming up the transceiver, each time you changed the frequency, or after a certain period of time had passed.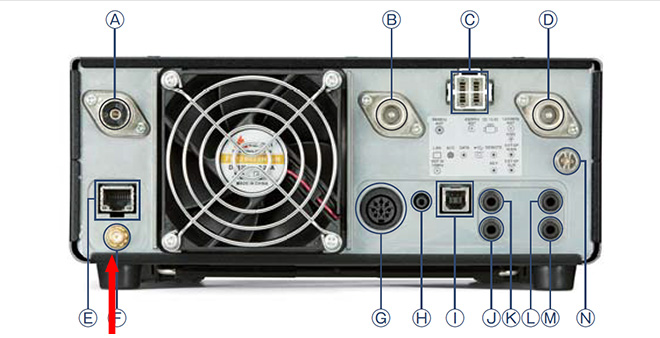 REF IN 10MHz input connector. The photo is taken from the Icom website.
In this firmware update, you only activate the synchronization function once, and then the external reference frequency is always used while the reference frequency is input. It is really helpful for the 1200 MHz operators.
Following functions are also improved or added in this update. The new cloning software Version 1.10, which is free of charge, is also updated at the same time. Download and enjoy your IC-9700 with the updated firmware! ●Added: UDP Hole Punch function onto the DV gateway function ●Added: Home Channel Beep function ●Added: Status indicator for Digital Twin PBT ●Added: Saved as old firmware version function ●Changed: The [SCAN] key operation ●Fixed: Bugs for CI-V command 25 and 26 ●Modified: Other small matters