【News flash】 "Dayton Hamvention 2019"reported by the FB NEWS editors
NEWS
If you love amateur radio, who wouldn't want to go to the Dayton Hamvention? The Monthly FB NEWS editors went there this year, and here is a detailed event report of Dayton Hamvention 2019. Compared to Tokyo Hamfair, Dayton Hamvention is much wilder! We were very glad to have the opportunity to attend this time.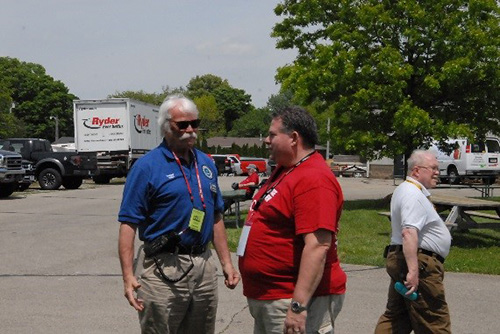 Left: Michael Kalter/W8CI who comes to Tokyo Hamfair every year
Right: Ray Novak/N9JA, a contester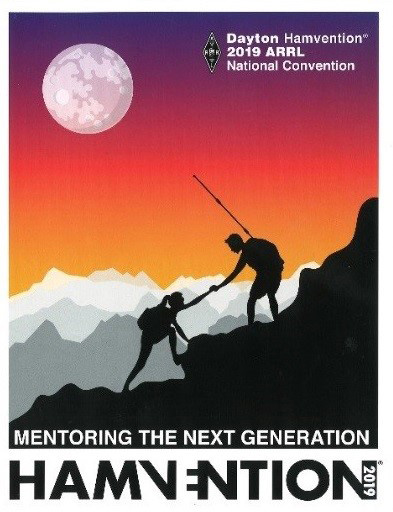 Distributed brochure
Younger hams
As I had expected, there were many older hams in the USA, as there are in Japan. It seemed young people are not interested in amateur radio in the USA too. Still, I was relieved to find more young hams at Dayton compared to Tokyo Hamfair. The picture below shows four promising young hams. The three girls have "Two by one" callsigns, which means they are all FCC Amateur Extra class licensees.
(http://bit.ly/hamvideos.)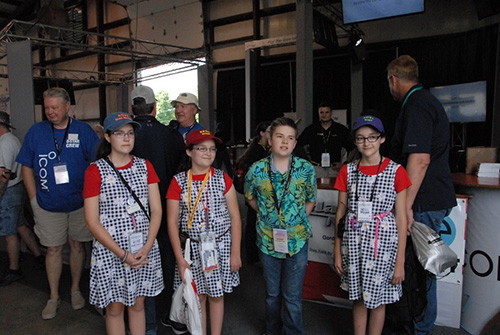 Kids hams! These girls are FCC Amateur Extra class licensees.
So, this is Dayton.
On Wednesday, May 15th, we departed Osaka Japan. After a long and tiring flight, finally we arrived at the Dallas/Fort Worth International Airport. We did the usual immigration check to be admitted to the USA.
Dayton Hamvention was held for three days, from May 17th to May 19th. It was around 8 am when we entered the event site, and many hams were already there. We usually have an opening address at the Tokyo Hamfair, or other ham events in Japan, but there was no announcement at the opening.
To reach the event site, there are no means of public transportation. However, some shuttle busses are available for those who stay at hotels around Dayton. After participants parked their cars, they immediately headed for the ticket booth. An in-advance on-line ticket was also available. If you take a look at the "TICKET" banner shown in the picture below, you might see that it is written by hand–very wild, isn't it?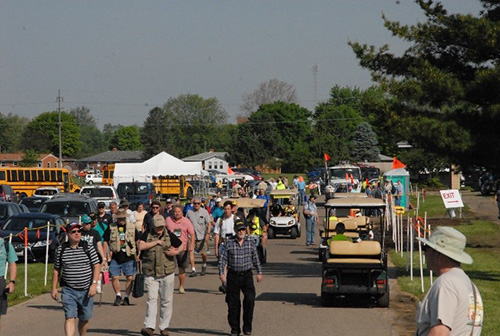 Ham after ham from the parking lot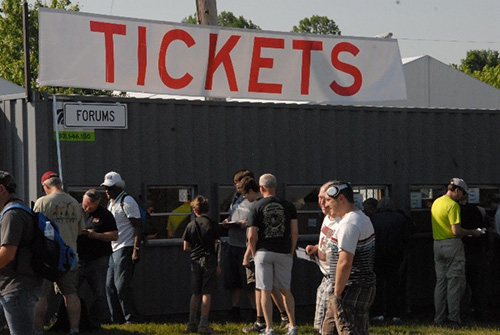 Ticket booth with a "hand-written" banner
That's the USA
You can't easily describe the broadness of the event site. REALLY HUGE.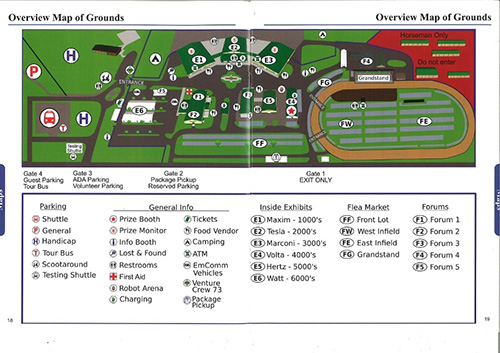 A map from the brochure
It is about 500 meters from the parking lot to the ticket booth. Many electric vehicles were transporting people anywhere and everywhere in the vast site. I tried the electric cart too. "Where are you headed?" the guy driving the cart asked. "Ticket office! Any charge?" I asked. Guess what? "No charge!" he answered!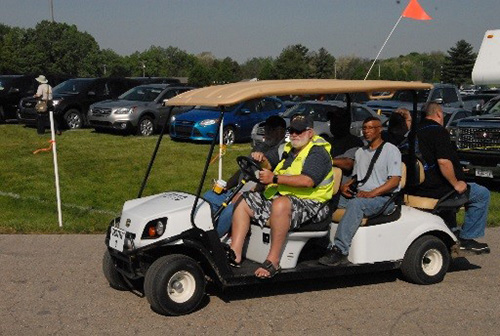 Electric carts for free
Rental electric wheel chairs were provided for those who needed them. Most places are wheelchair accessible. Dayton Hamvention is very handicap friendly.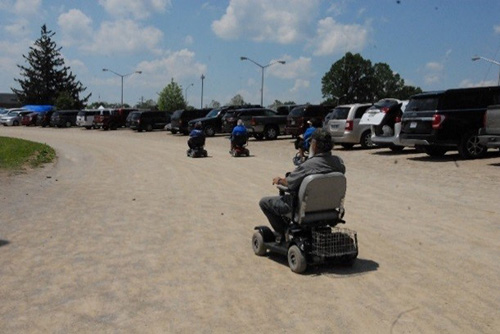 Rental electric wheelchairs
How to spend a luxurious time in Dayton
Needless to say, the United States is large. Hams from other states need to stay at a hotel, but surprisingly this is not common. A ham told us "I know some hams spend the most luxurious time in Dayton." They use their motorhomes! There was a special parking lot for motorhomes for those who want to spend a relaxing time without worrying about getting up early, or storage space for their "prized possessions" got from a flea market. Of course, their rigs are installed to their vehicles with great antennas. They make their meals in their motorhomes. What a luxury time they had!


Many antennas can be seen in the motorhome parking lot
Dayton's interesting food
I've personally been to Tokyo Hamfair many times, and cannot help comparing Dayton with Tokyo, but lunch in Dayton is a lot more fun for me. It's as if I went on a picnic! There were so many kinds of food at the site that I never got tired of trying them. Thinking of what to eat was as much fun as digging for electronic parts and equipments. I took many pictures, so please have a look!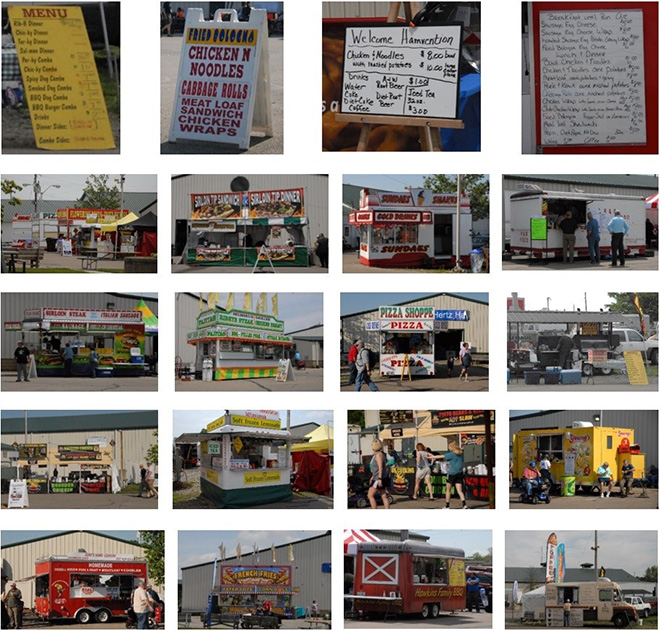 To eat them all, you probably need five stomachs.
Help us! No shade in Dayton!
Although the weather forecast had predicted a storm coming, luckily, we were blessed by the weather during our stay. The problem is...almost no shade outside in Dayton. In spite of this hot and severe weather, most hams made a long line to get their lunch without giving up, and enjoyed chatting with their friends under a cloudless sky. By the way, I got sun tanned and became very dark. After I went back to Japan, some people sneeringly looked at me and said "You must have been on vacation in Hawaii or somewhere..."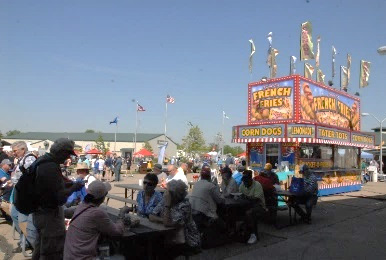 Seeking shade


Many people had lunch under the blue skies.

Because of the hot weather, basic first aid was also available
Hams in Dayton with a particular sense of fashion
You can see unique hams from all over the world...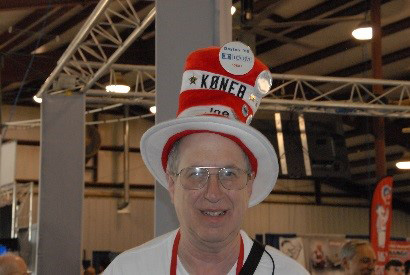 "THE CAT IN THE HAT" guy has a rare tin badge with old Icom logo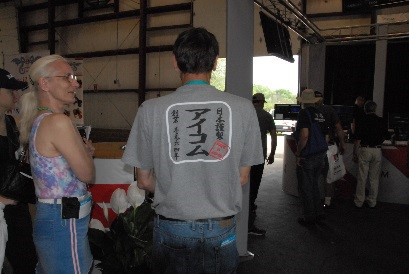 A ham from Germany shows his T-shirt bought in Friedrichshafen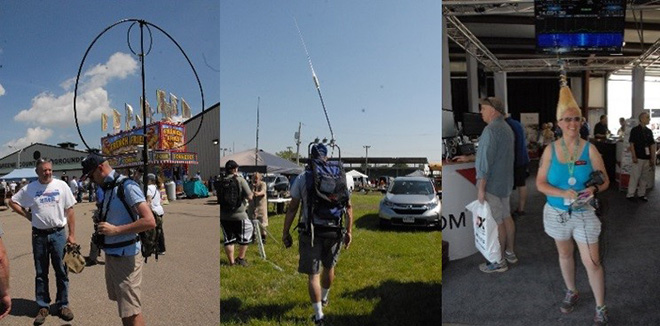 To be continued....