NEWS
Tokyo Ham Fair 2020 has been decided!!
On September 30th, 2019, The Japan Amateur Radio League, Inc. officially announced on their website that they decided to hold Tokyo Ham Fair 2020 on October 31st and November 1st. According to the newsflash, the venues will be the Tokyo Big Sight West, Hall 3 and 4.
The JARL official website: https://www.jarl.org/
(As of November 2019, the English webpage has not been updated.)
Tokyo Ham Fair, the largest amateur radio event in Japan, was first held in 1977 at Harumi Fairgrounds which was located in Harumi, Tokyo, and has been held annually ever since. Recently, Tokyo Ham Fair has usually been held in the summer, but the first and second fairs were held in the fall, on September 23rd, 24th, and 25th in 1977, and on October 27th, 28th and 29th in 1988.
Since the 3rd fair, JARL has been holding the fair on Fridays, Saturdays, and Sundays late in August so that student hams can easily attend. Since then, Tokyo Ham Fair has been well known as a distinctive summer event for Japanese hams. The number of visitors was first just around 25,000. However, attendance increased to around 61,000 in 1993. In 1996, the venue was changed to Tokyo Big Sight, which is located in Ariake, Tokyo. From 1999 to 2001, the venue was Pacifico Yokohama, located in Yokohama, Kanagawa prefecture.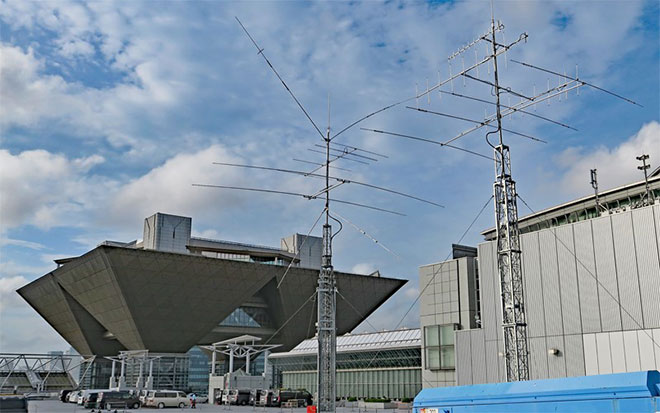 Tokyo Big Sight, seen from the rooftop of the West halls
Since 2002, Tokyo Ham Fair has been held only for two days, however the number of visitors has been increasing year by year. This year, about 42,000 people attended the fair, which is the highest number ever. The number of visitors from overseas are rapidly increasing as well.
You might know that 2020 is the year in which the Olympic Games will be held in Japan. The event dates for the Olympics are from July 22nd to August 9th, and for the Paralympics are from August 25th to September 6th. All halls at Tokyo Big Sight will be used as the International Broadcast Centre, and are booked for 5 months from May to September. Furthermore, the Makuhari Messe convention center in Chiba city will also host Olympic and Paralympic events, which leads to a serious lack of venues problem in the Tokyo area.
Based on above, JARL had considered changing the regular dates and venues, and so it consulted a council about possible venue candidates at their 47th meeting. As a result, "holding Tokyo Ham Fair 2020 on October 31st and November 1st at Tokyo Big Sight West, Hall 3 and 4" was approved by the whole committee. By the way, West, Hall 3 and 4 were used in 2017 as well.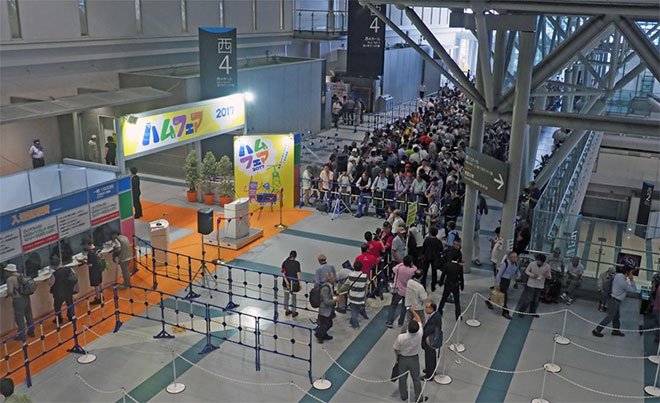 West, Hall 3 and 4
Many hams were anxious about whether the fair would be cancelled or not, and there was even a rumor that Ham Fair would be held in an area other than Tokyo. Now that the schedule for Tokyo Ham Fair 2020 has been decided, people are relieved. All is right again.