Masaco's Social Studies
Episode 2: Sharp Museum
This is a serialization called "Masaco's Social Studies," in which Masaco, JH1CBX, visits museums or factories where we can learn about various kinds of Japanese technologies. This is Erii, JP3JZK, and I am now going to give you the wonderful "Episode 2: Sharp Museum." I really hope you liked the previous article — "Episode 1: Bicycle Museum."
Sharp Corporation is a famous Japanese company which mainly manufactures telecommunications equipment, electric equipment, and electronic components. They have a museum called "Sharp Museum" (The website is written in Japanese only), where we can learn the company's history, technologies, and the founder's strong spirit. They exhibit many kinds of products and technologies—from the 1920's old-fashioned electric appliances to the latest technologies such as "Internet of Things" and environment conservation methods.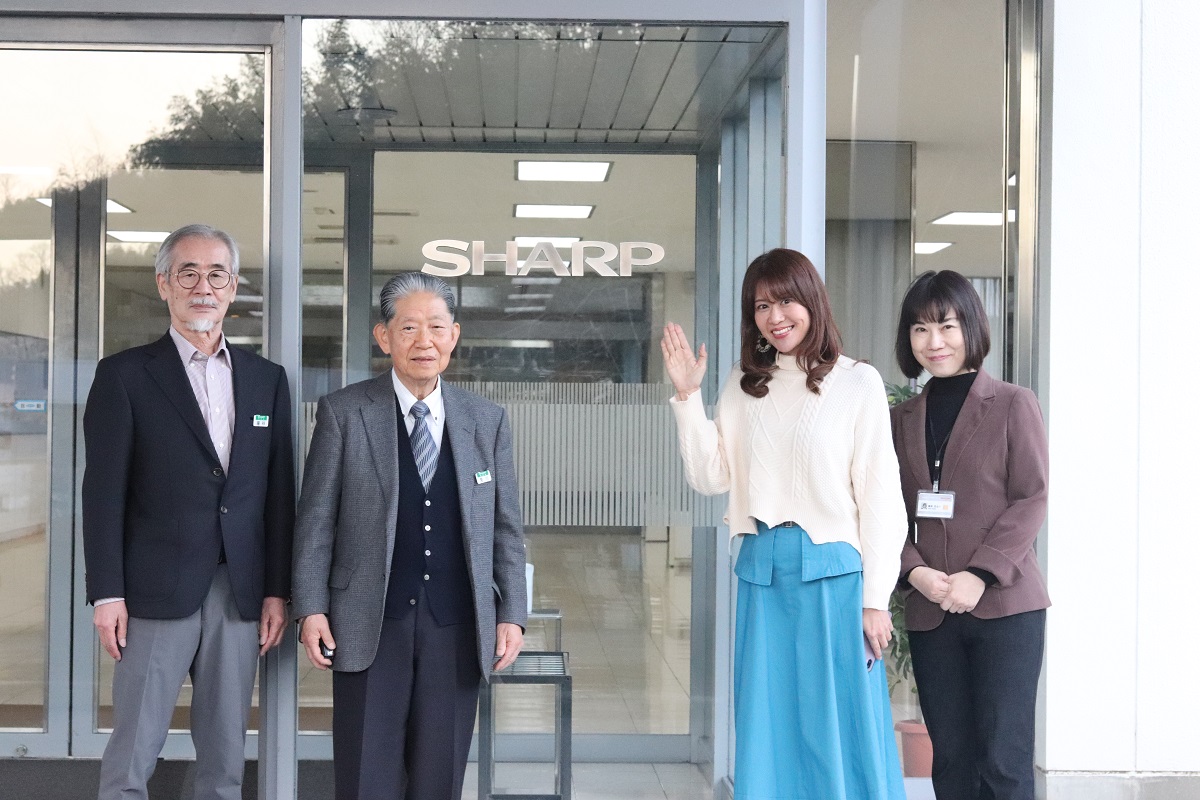 Former employees of Sharp corporation, Mr. Fujibayashi (JO3QVT) and Mr. Arakawa (JA3AER),
Masaco (JH1CBX), and a museum staff member Mrs. Fujiwara (From left to right)
The founder, Mr. Tokuji Hayakawa and his "Ever-Ready Sharp Pencil"
The founder of Sharp corporation, Mr. Tokuji Hayakawa was brought up as an orphan after his parents passed away right after his birth. He was only eight years old when he started working as a metal worker, and he spent a really challenging and impoverish childhood. Even after he grew up, a horrible earthquake hit the Tokyo area killed his wife and children, and he also lost his precious metal processing factory. Although he had been thrust into the cruel realities of life, he never gave up to keep developing latest technologies, driven by his unfortunate experiences.
Mr. Hayakawa improved mechanical pencils brought from overseas by using durable metal shafts and named them "Hayakawa Mechanical Pencil". After further improvement using thinner pencil leads, it was renamed "Ever-Ready Sharp Pencil", and it became a big hit. At that time, around the 1920s, Japanese people were not familiar with mechanical pencils, thus wholesale dealers kept saying to Mr. Hayakawa "This is not going to be popular in Japan!". However, he never gave up. He invented thirty-six types of pencils, with various kinds of value, such as decorations and tools added to them. He kept overcoming obstacles throughout his life! As a result, his high-quality Sharp pencils became very popular abroad, and then it also began to be widely accepted in Japan.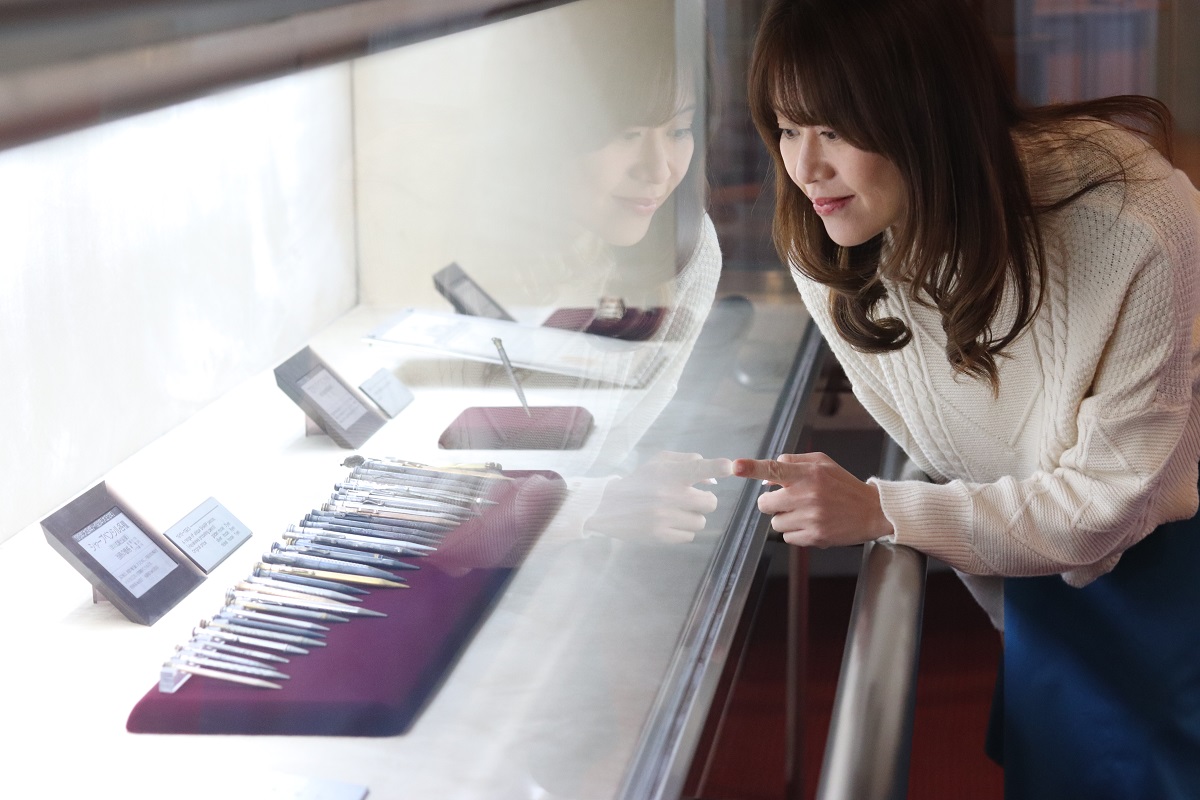 Various values were added to Mr. Hayakawa's pencils.
A Pencil with scissors, a compass, a calendar, and a thermometer!?

This export version Ever-Ready Sharp pencil was founded in an antique store in New Jersey, USA,
and donated to the Sharp Museum. Isn't this retro design fashionable?
The very first radio in Japan
Well, to all ham radio operators who are kindly reading my article, did you know that it is Sharp that manufactured the very first radio in Japan? It was 1925 when radio broadcasting started in Japan. Just before that, while Mr. Hayakawa unexpectedly listened to the test broadcasting, he intuitively thought "The radio era is coming...". He obtained an imported radio, and took it apart. He was very surprised to see that the radio consisted of many parts made of metal. Because he started working when he was just a child, he did not have any knowledge about radios. However, he thought "I already have a lot of metal working skills...well... I might be able to build one by myself!" Consequently, he became the first man in Japan who succeeded in building a crystal receiver. Furthermore, because he wanted Japanese people to find how interesting radio building was, he also sold radio building kits. Later, when Sharp developed a computer, the company also sold computer building kits, which were widely enjoyed by amateur radio operators. Sharp has a strong credo — "First make good parts, then make products" — therefore they have confidence in making high quality parts. They also manufactured, sold, and exported radio parts.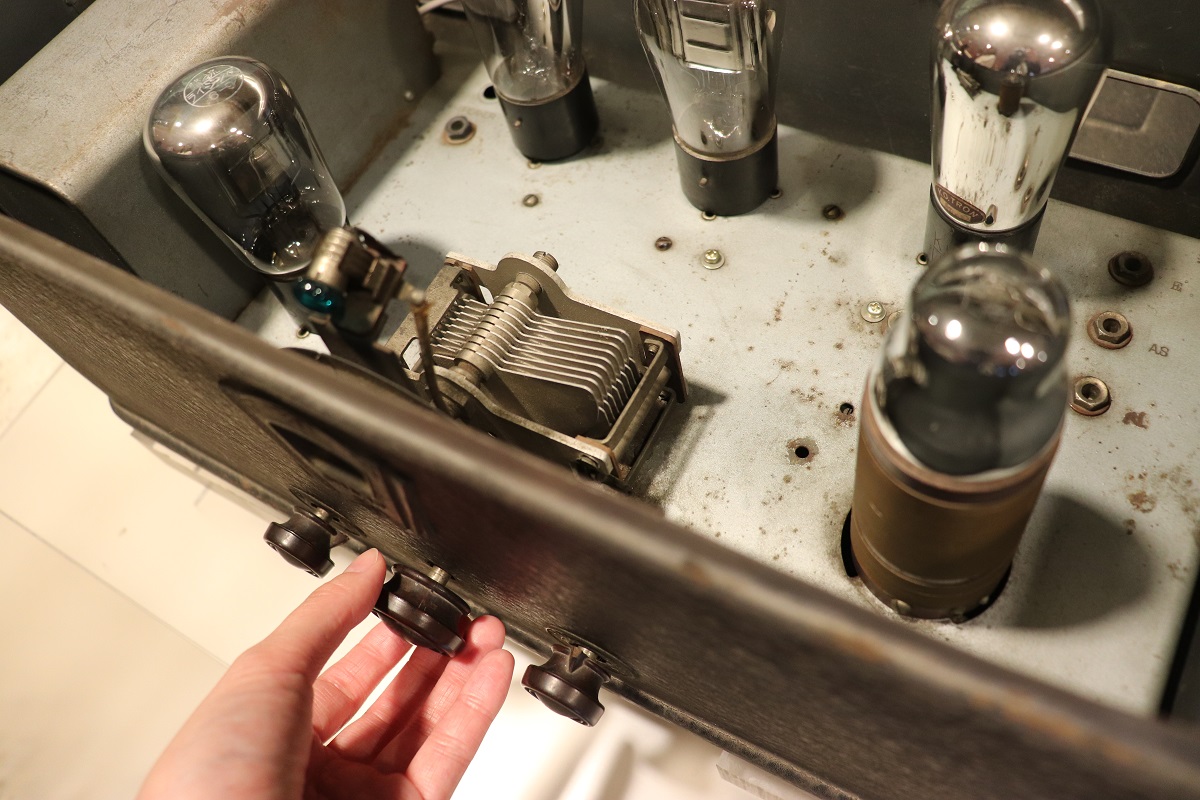 Hayakawa method variable capacitor. This delicate metal processing skill had been cultivated since his childhood.
Mrs. Fujiwara:Here's a quiz! What do you think is the idea Mr. Hayakawa came up with to enable mass production of radios?
A: Hiring many people who are good with their hands.
B: Adopting assembly line work.
C: Providing special bonuses to people who can assemble many radios.
Masaco:I think it's B!
Mrs. Fujiwara:You're right, Masaco! Mr. Hayakawa first precisely calculated the time required to assemble parts, and then devised a method that enabled pausing a belt conveyor at the most suitable time to assemble those parts.
By adopting the "Intermittent Belt Conveyor" system, it took only a minute to assemble a radio! This great accomplishment realized mass production of radios.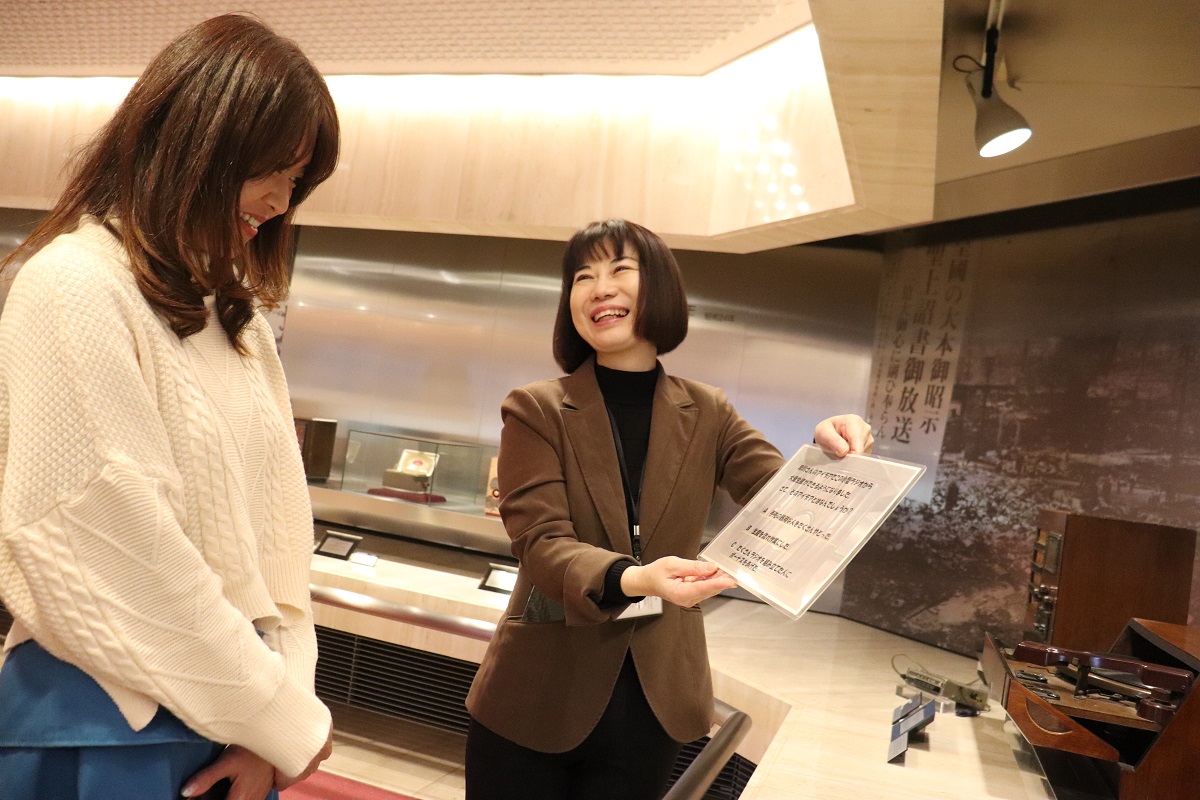 Masaco did a great job on the quiz!
Next TV, then microwave oven...
Mr. Hayakawa started to ponder and study the concept of TV when everyone had just started to listen to radio broadcasting in Japan. However, his study was halted due to World War Ⅱ, and even after the war ended, the US government prohibited Japanese researchers from researching. So, the Japanese first TV was commercialized in 1953, 8 years after the war.
Mr. Arakawa:When I was just a freshman at Sharp over 60 year ago, I used to visit our customers' houses to repair TVs. At that time, only a few people owned TVs. Even when I didn't know the customers' exact addresses, I was able to reach them because the houses were all huge and had tall antennas.

This is Sharp's first color television, and the weight is 78 kilograms.
The chassis, vacuum tube, or transformer was heavy to carry and repair.
The first microwave oven in Japan was invented by Sharp, used at a restaurant in a department store. At first there was a complaint from the customers as they were not able to know when the dishes were done unless they kept paying attention to the machine. Then, Sharp hit upon a great idea. Engineers obtained a clue from the sound of a bicycle bell; they improved the microwave so that the bell rang when heating is complete. The 2.4 GHz cooking frequency is the same as it was in the beginning. They told us that heating dishes using a turntable was also Sharp's idea.

The first microwave oven in Japan!
Unique devices of Sharp
Masaco found some unique electronic devices at the Sharp Museum! Check these out!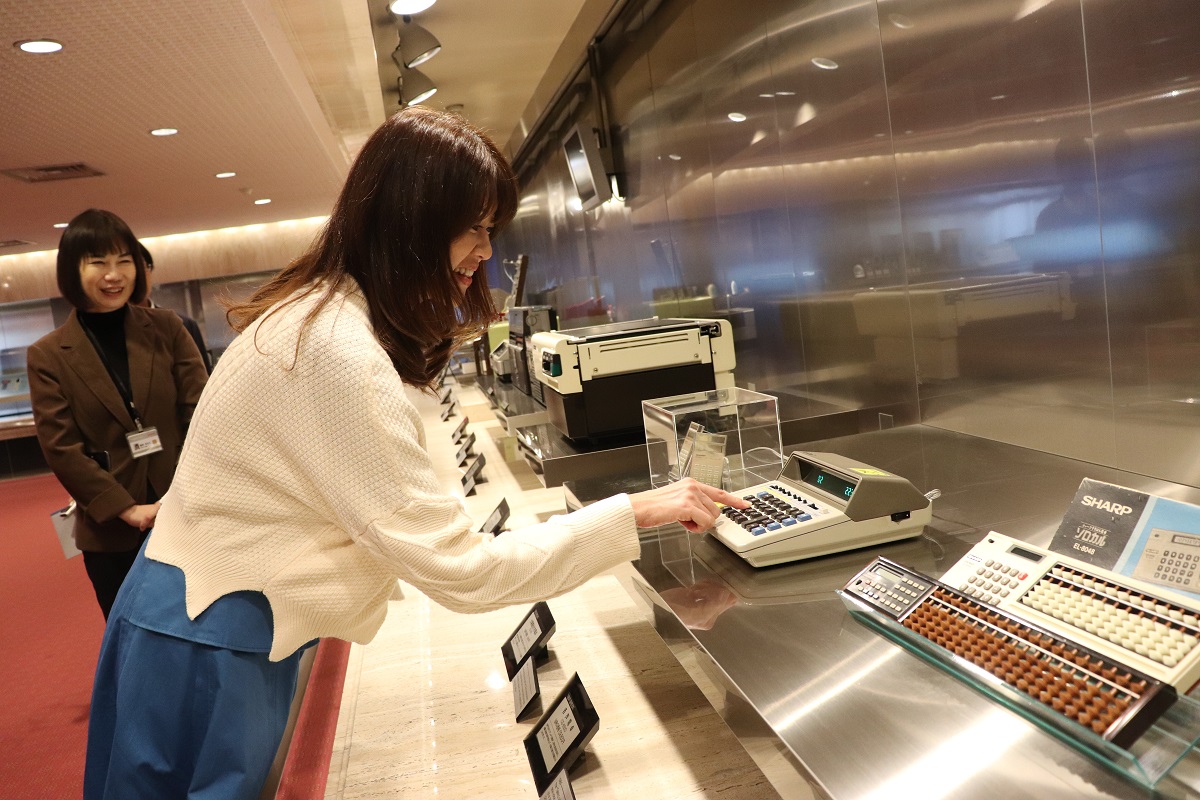 "Sorokaru" is for those who were reluctant to rely on a calculator alone… an abacus was attached to a calculator.
The one Masaco is operating is the world's first calculator that can talk, so that sight impaired people can use it.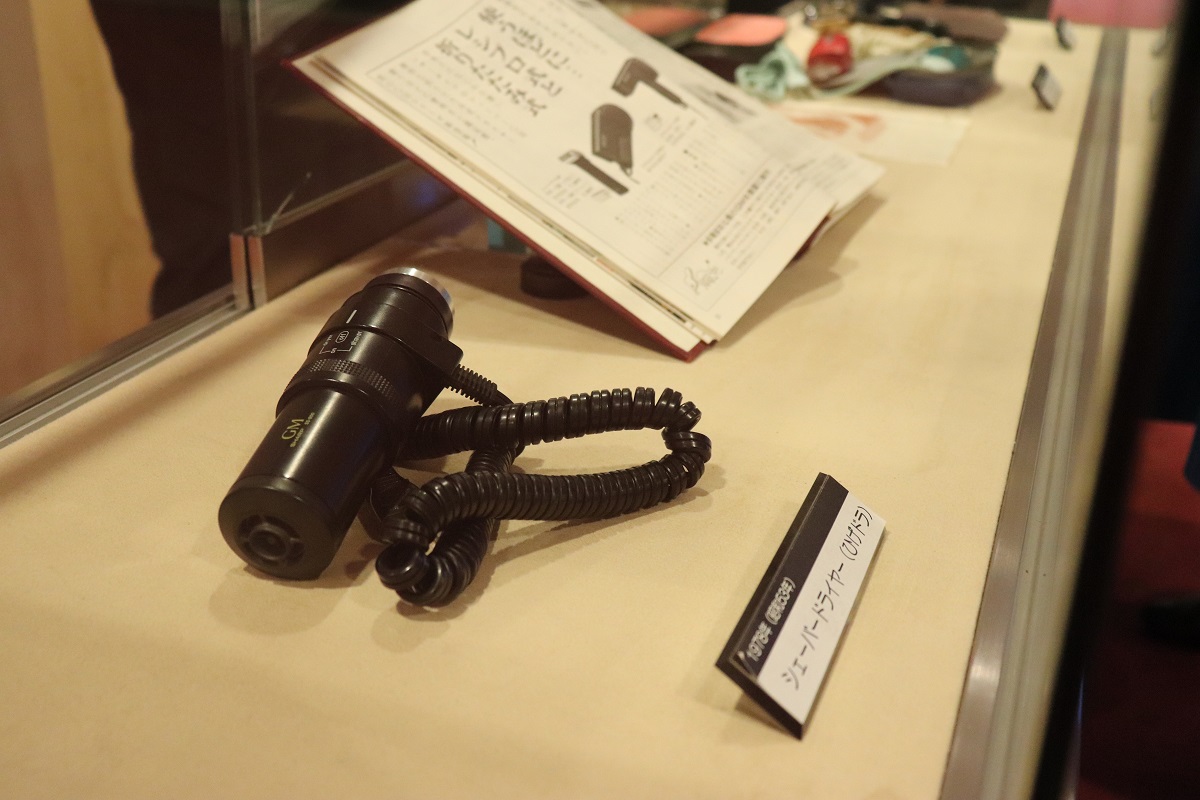 An electric shaver and a hair dryer combined together! You can take it to your business trip very easily, right?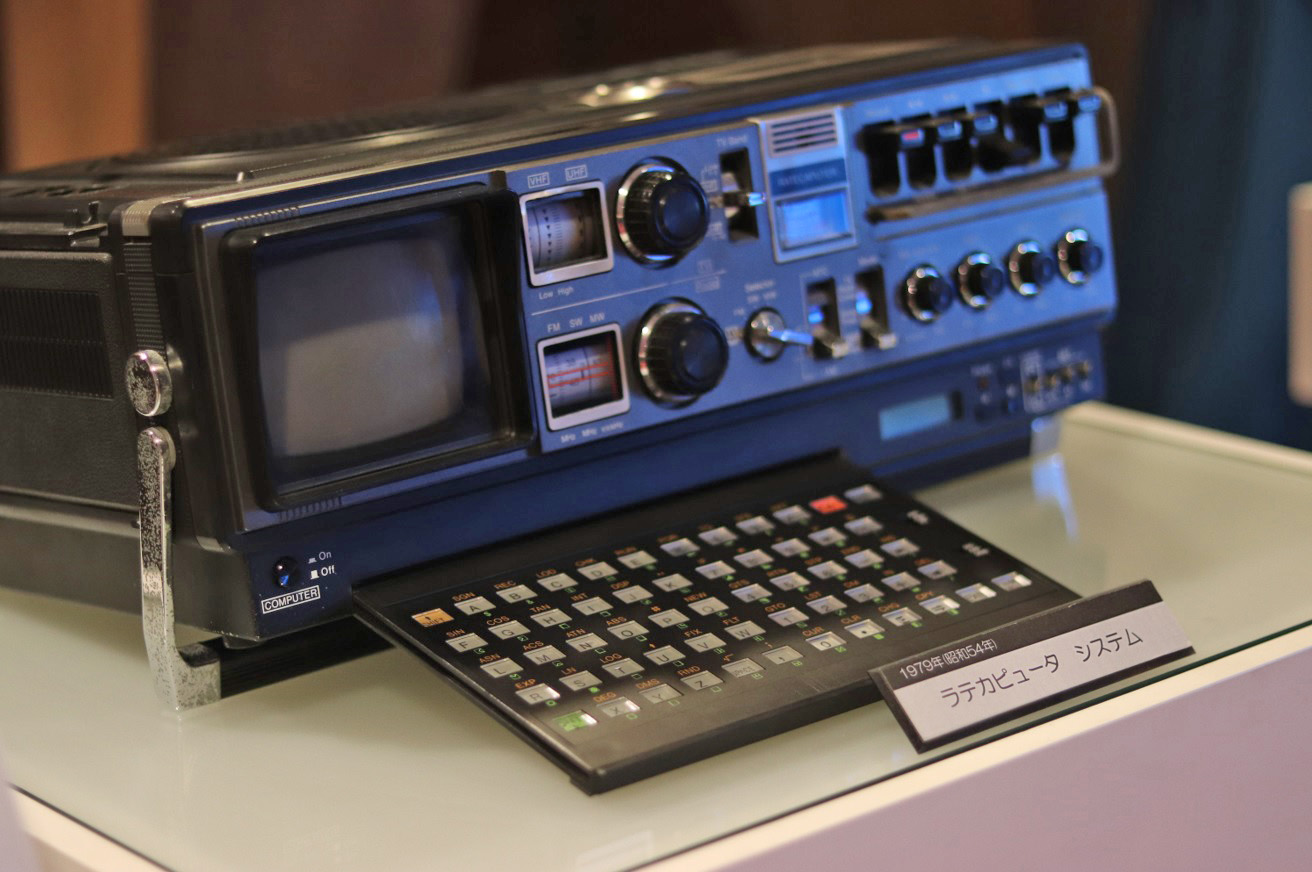 A radio, a TV, a cassette player and a computer, integrated in one! This is called "Ratecaputer".
Sharp seems to have a habit of combining several devices and making them multi-functional. This must be because of their unique technologies.
The Sharp products cover space beyond the earth!
I heard that most solar batteries installed in Japanese satellites are produced by Sharp. These high-quality and high-reliable Space solar batteries are the only solar panels authorized by Japan Aerospace Exploration Agency (JAXA), because of their high durability and reliability, even under strong radiation in space. Surprisingly the museum exhibits a broken piece of a heat protection plate fell off of Apollo 4! The surface of the piece became charred, but this was an intentional result. The structure of the plate is "honeycombed", protecting devices inside from friction heat that occurs when a rocket re-enters the atmosphere.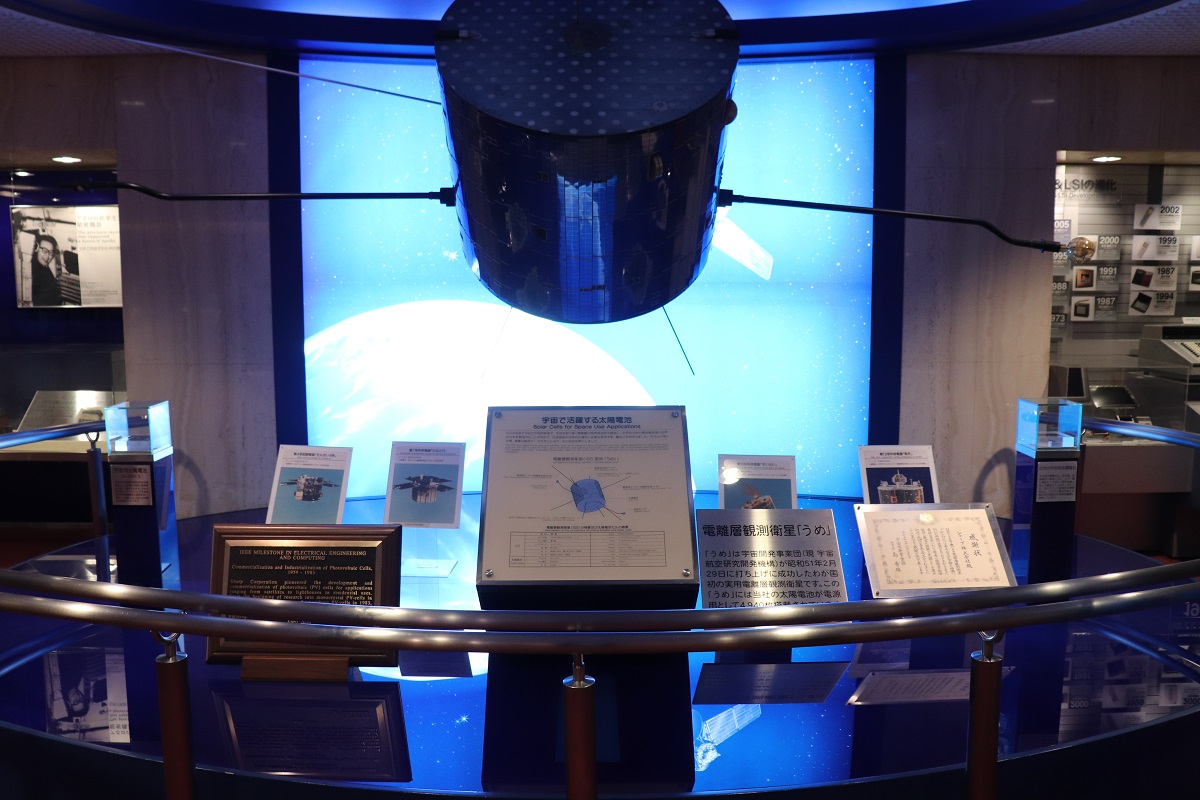 Exhibition of solar batteries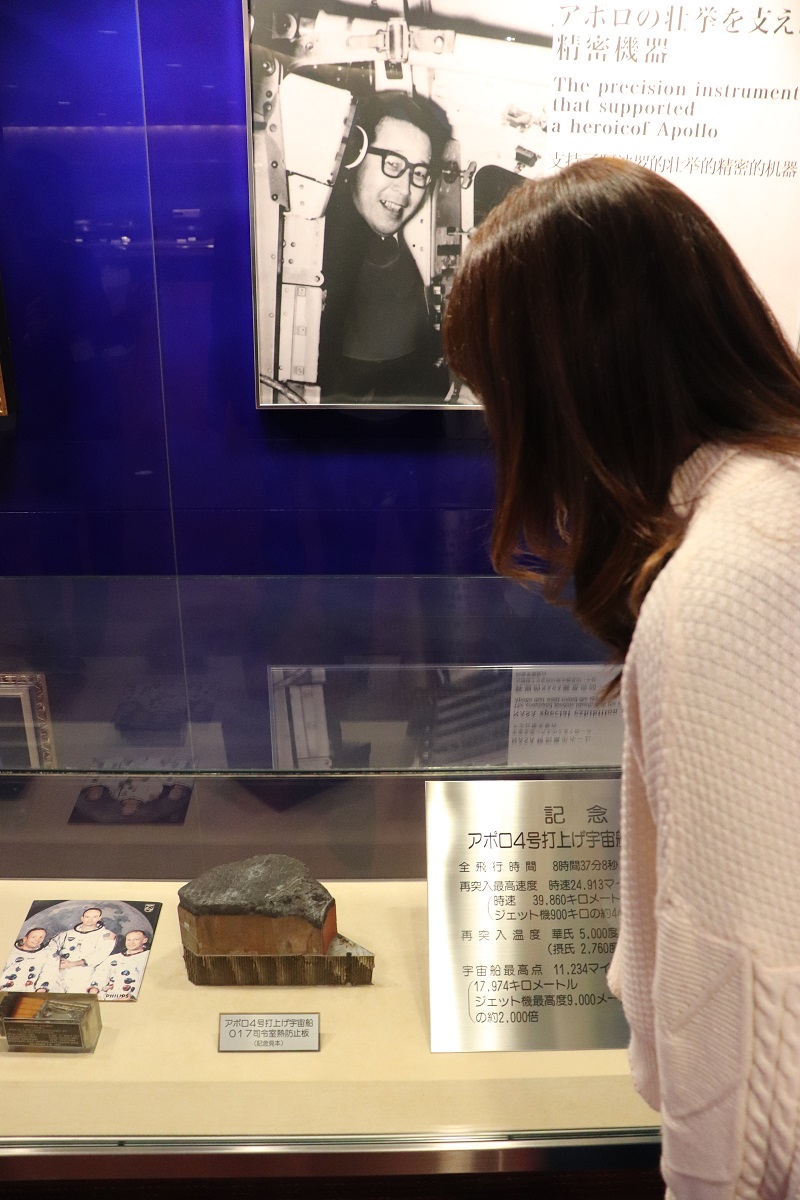 A broken piece of a heat protection plate that fell off of Apollo 4!
Sharp's eco-friendly technology
Sharp, aiming to be an "Ecologically advanced company", has been taking the lead in recycling plastics used in electric appliances. They also invented an environmentally friendly system to process industrial wastewater. Here is an example of a factory in Hiroshima prefecture. First, micro-nanobubbles are used to increase the amount of oxygen contained in the industrial wastewater, and then activate the action of microorganisms. This changes the wastewater's chemical property from alkaline to acidic. Then, taking advantage of the acidic water, oyster shells dissolve to neutralize the water, and now, the industrial wastewater purification is complete! The purification has been proven to be very effective by actually raising fish in the cleaned water. The simultaneous industrial wastewater and oyster shell treatment is another revolutionary invention of Sharp!!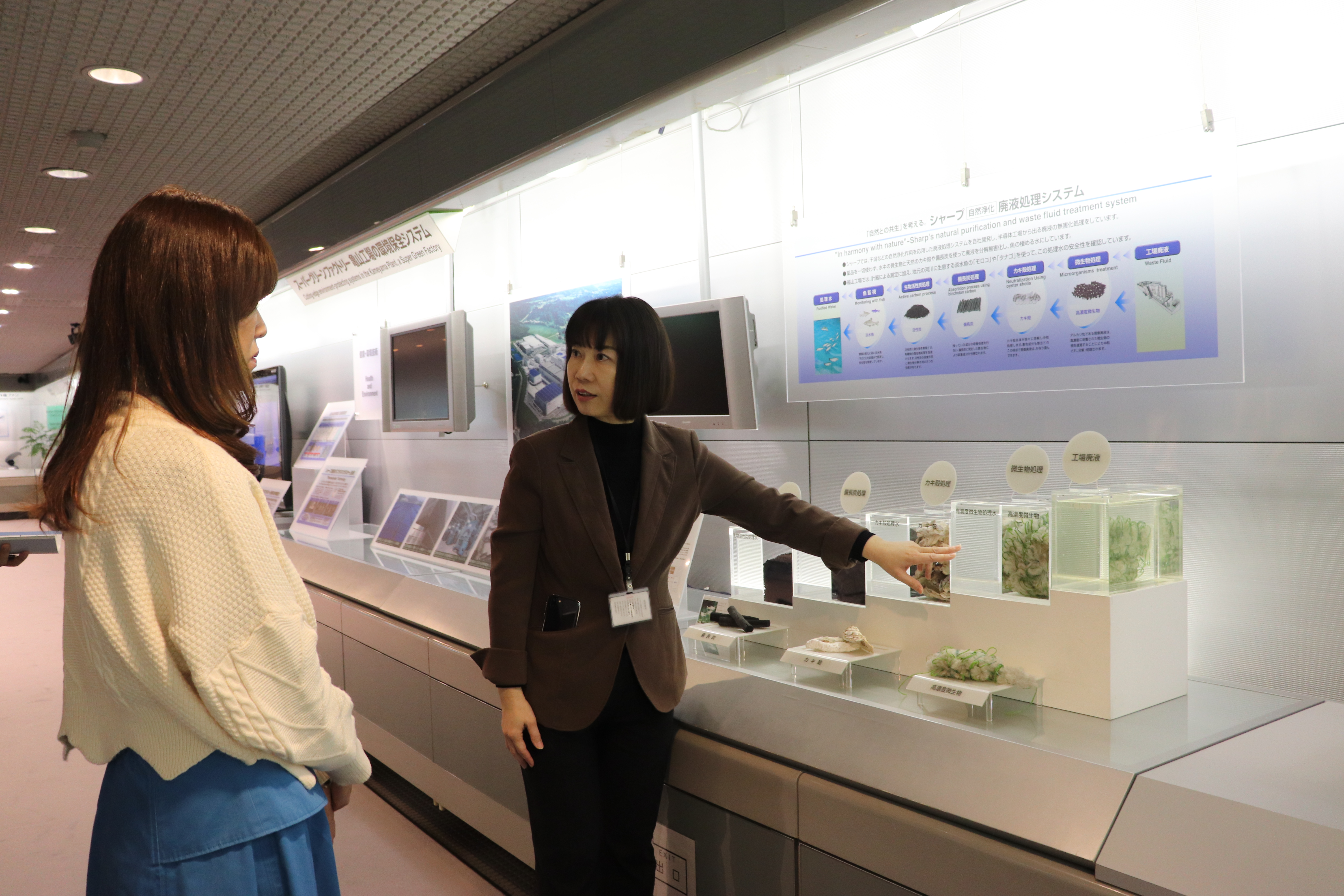 Masaco, being explained the steps of the industrial wastewater processing
Masaco's smartphone
During the interview, I noticed that Masaco's smartphone is from Sharp!
Masaco:I really like my smartphone because its display is amazingly bright and beautiful! In addition, due to my job as a singer, I often take pictures of my concerts, song recording activities, and local cuisine when I have interviews all across Japan, and then upload the pictures to SNS. With this smartphone, I can take really beautiful pictures, and I'm not flattering at all! Sharp's Liquid Crystal Display technology is the best in the world.
Mrs. Fujiwara:Thank you for the compliments. Our company has been enthusiastically studying liquid crystal technology since 1969, and produced thin, light, and high-contrast liquid crystal displays. We believe that our liquid crystal products are outstanding. Also, in your AQUOS smartphone, has built-in camera censors developed by Sharp.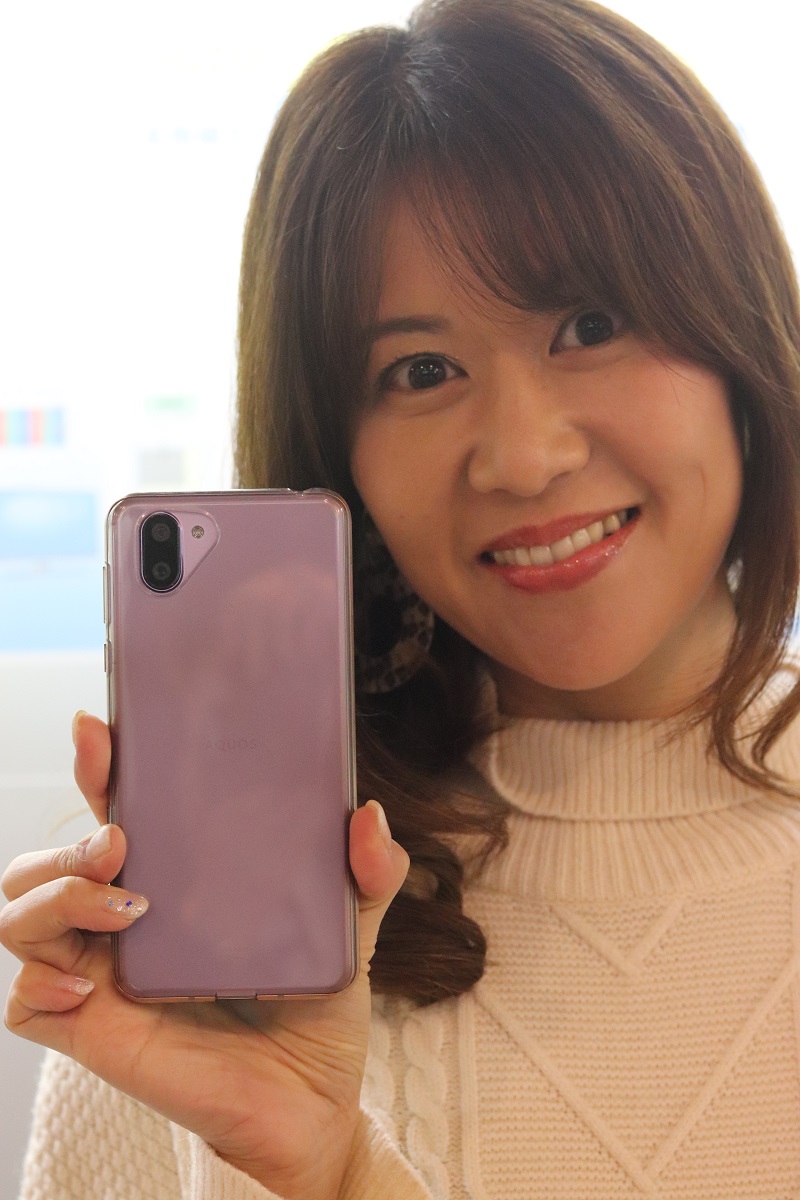 Masaco and her AQUOS smartphone
Also, Sharp is the first company to install a small camera on a mobile phone. Today we can readily take pictures, browse web pages, or play games...with a device that can fit in your hand. However, thinking of old-fashioned huge TVs or computers, it's unbelievable how far technologies have advanced in a few decades! There are so many other exhibitions that are not introduced in this article, so I really recommend you to visit the museum.
I would like to express our gratitude to Mr. Arakawa, Mr. Fujibayashi, and Mrs. Fujiwara, and all other staff members at the museum!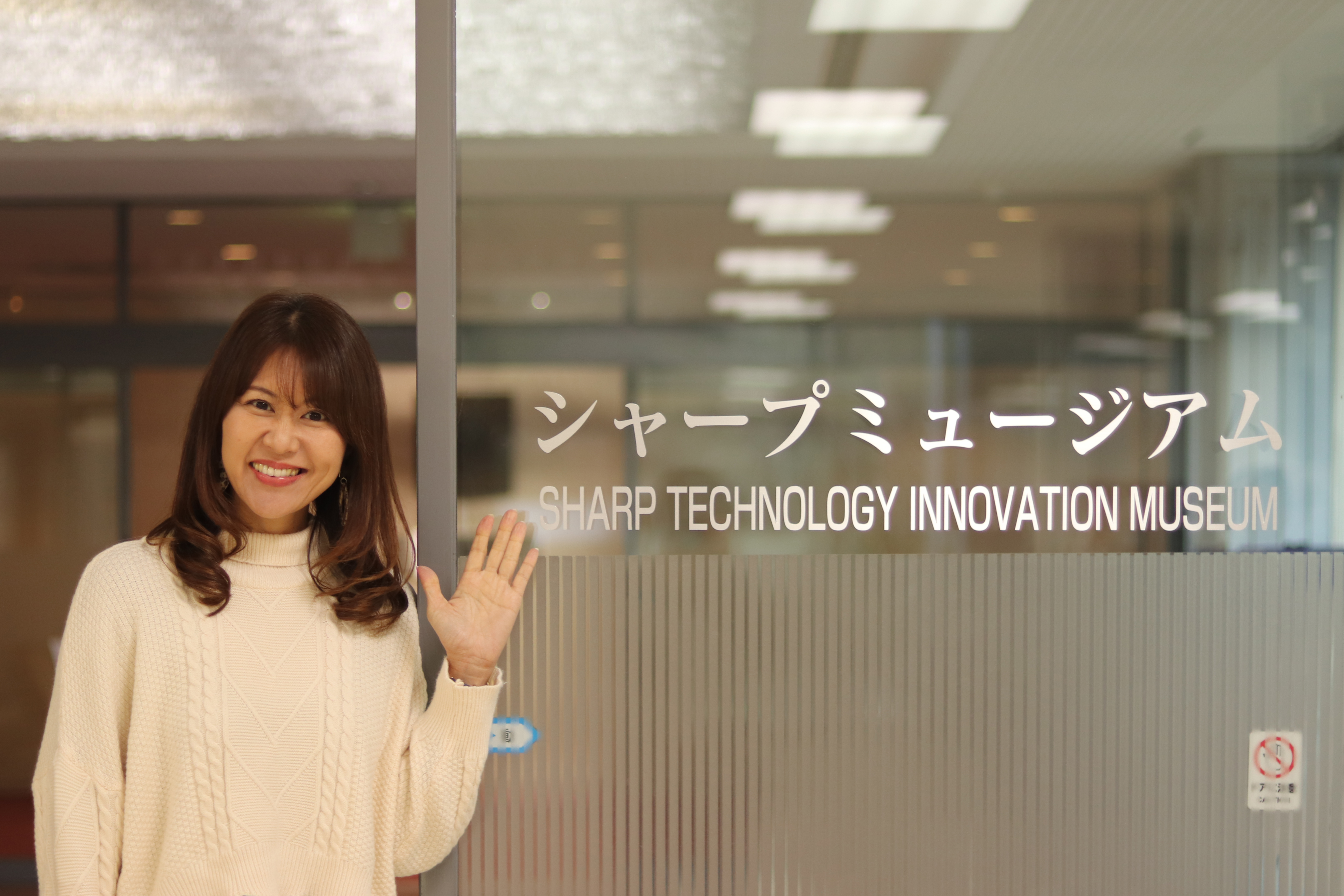 Please visit the Sharp Museum when you travel to Nara prefecture!
To be continued...