Special Article
Taiwan Miaoli County
Hello everyone. I'm Carol and live in Taipei, Taiwan. This article has nothing to do with amateur radio, but I hope FB NEWS Worldwide readers can enjoy a taste of Taiwan. The other day I traveled to Miaoli county, located North West part of the Island. It takes about 50 minutes by Taiwan High Speed Rail from Taipei.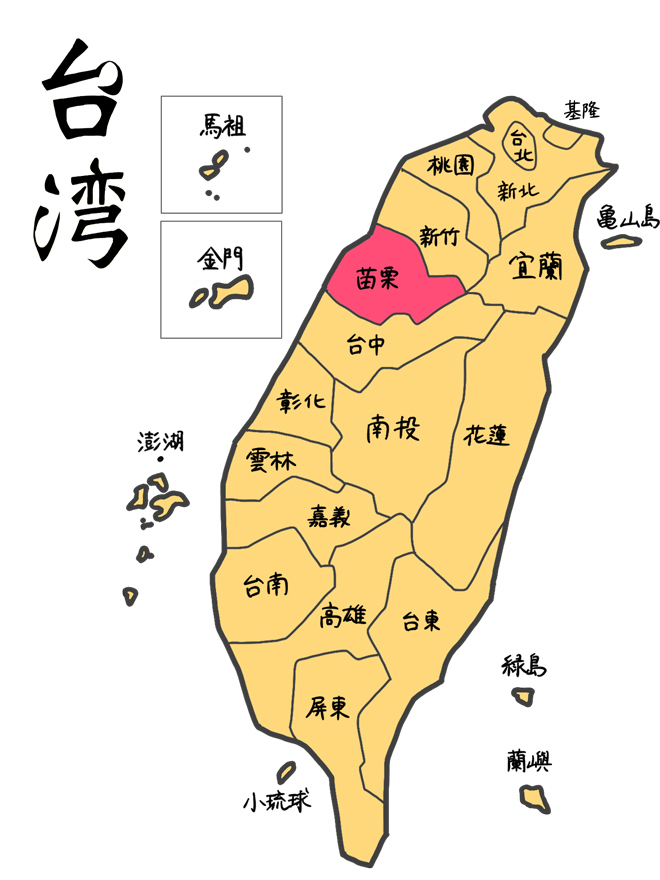 Miaoli is located in the North West part of Taiwan, indicated in red on this map.
A mountain range called "Xueshan" runs in southeastern Miaoli. Miaoli is a mountainous region, and it has not really been developed yet. Therefore, we can see beautiful scenery and untouched culture, and the people have stronger bonds compared with those in urban cities.
In the past, a lot of Hakka people moved and settled into Miaoli, and so now over half of the population are Hakka people. Miaoli food and culture are strongly influenced by them.
Miaoli has several popular sightseeing spots—Dahu, known for its strawberries, Sanyi, famous for its woodcarving, and then Nanzhuang, where there are beautiful landscapes and great food.
The government of Taiwan proactively promotes the tourism industry, and economic development, and they have Taiwan Tourist Shuttle lines everywhere in Taiwan.


Source: https://www.taiwantrip.com.tw/line/5?x=2&y=1
To get to Nanzhuang, take the Taiwan High Speed Rail and get off at Miaoli station. Then transfer to the Mountain line and head for Zhunan station. At Zhunan station, you can purchase a bus ticket at a convenience store. Here's a timetable.


Source:
https://www.taiwantrip.com.tw/upload/1551668794J6ZgB.pdf
Nanzhuang Old Street
Get off at Gueijhuling station
This is one of the most popular sightseeing spots in Miaoli. You will be so impressed with historical buildings, authentic Hakka food, and Nanzhuang noodles. Go to Sweet Osmanthus Lane and try Tangyuan, a sweet Chinese dessert made from rice cake, or any other Hakka desserts!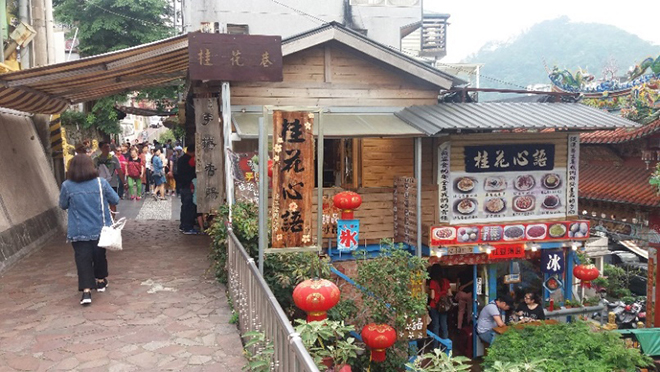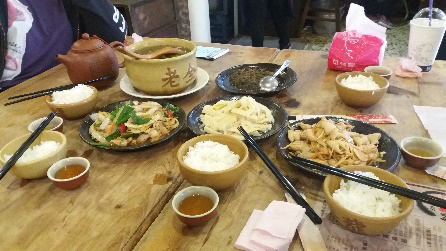 Nanzhuang Old Post Office
Get off at Nanzhuan Junior High School station
The post office was built in 1900 during the time Taiwan was ruled by Japan, and thus has the style of Japanese architecture. People think that it is a historically significant building and they have been preserving it with care.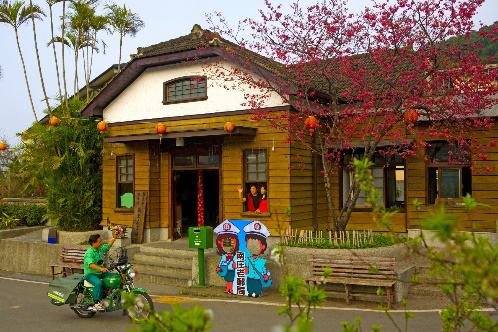 Source: https://jobus.tw/%E5%8D%97%E5%BA%84%E9%83%B5%E5%B1%80/
Lion's Head Mountain Quanhua Temple
Get off at Sanwan station
Buddhism is one of the major religions in Taiwan. Lion's Head Mountain is a famous mountain that is considered to be a Buddhist holy place. Decorations of wood carvings, stone carvings, and pictures make Quanhua Temple very beautiful and majestic.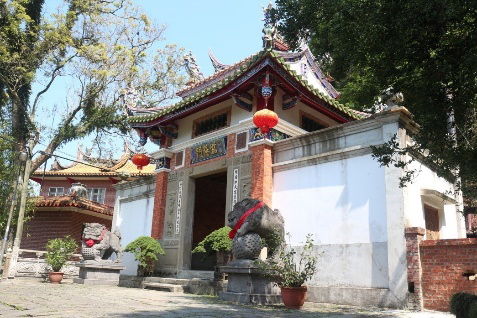 Source: https://jobus.tw/%E7%8D%85%E9%A0%AD%E5%B1%B1%E5%8B%B8%E5%8C%96%E5%A0%82/
Tongjing Mountain Forest trail
Get off at Toufen station
In April, paulownia blossoms are in full bloom in Taiwan, and you can also admire them here on the Tongjin Mountain Forest trail. Paulownia blossoms reflected on the surface of a pond are splendid! Many tourists visit here from April till May.


Source: https://jobus.tw/%E9%8A%85%E9%8F%A1%E5%B1%B1%E6%9E%97%E6%AD%A5%E9%81%93/
Arwin Rose & Jasmin-Orange Forest Park
The Taiwan Tourist Shuttle does not stop by this park, so I used a taxi to get there. Arwin is a popular cosmetics company in Taiwan, and this is a place where we can join a factory tour, do shopping, and enjoy walking in the park full of flowers. They also have restaurants in the facility, so you don't have to worry about your meals! I enjoyed ice cream there...having ice cream in the beautiful garden was perfect on a hot day!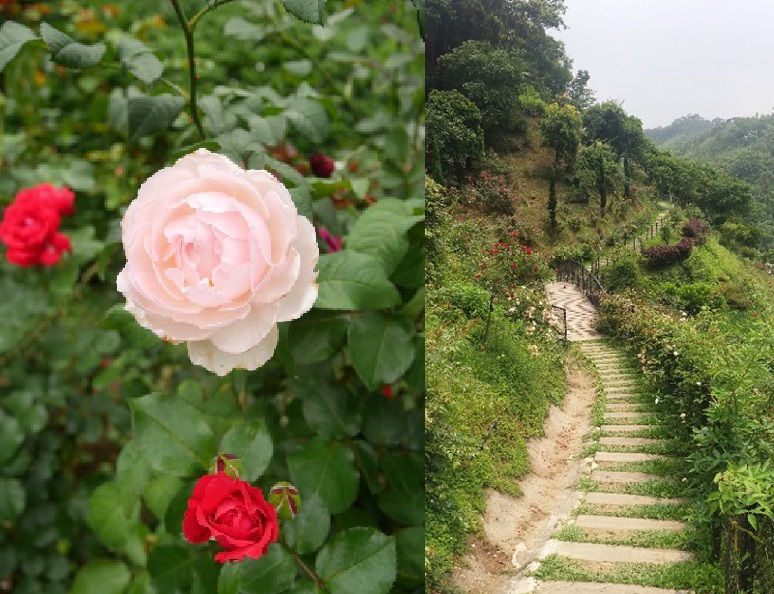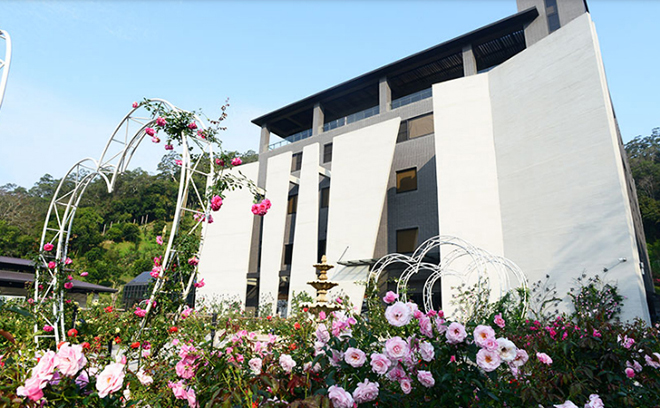 Source: https://www.arwin.com/store-detail/128
A little away from Taipei, my trip to Miaoli was fantastic! I'm also interested in other sightseeing spots in Taiwan where I've never been. I'll show you some more next time!