Masaco's Social Studies
Episode 3: Kameido Sohonten
This is a serialization called "Masaco's Social Studies," in which Masaco, JH1CBX, visits museums or factories where we can learn about various kinds of Japanese technologies. This is Erii, JP3JZK, and I am now going to give you the wonderful "Episode 3: Kameido Sohonten."
First, we are very sorry that people around the world are now facing the severe COVID-19 disasters, and many people are suffering from health or economic problems. We hope that our web magazine could be a little bit of help to you in this crisis. Please enjoy our articles!
Episode 3 introduces Kameido Sohonten (The website is written in Japanese only), which is a Kawara Cookie (Japanese style cookie) shop with a very long history. One day, I heard a rumor that they make the "IC-705 Special Kawara Cookies" for the Icom Inc.'s sales promotion. Hmm...The IC-705 Special Kawara Cookies...very curious! I have a friend in Icom, so I asked him to introduce Kameido Sohonten to us, thinking that maybe we could do a direct interview!
NOTE:
- The IC-705 Special Kawara Cookies were special gifts for pre-order customers in Japan. Icom said this sales promotion has been discontinued.
- Their cookie factory is not open to the public.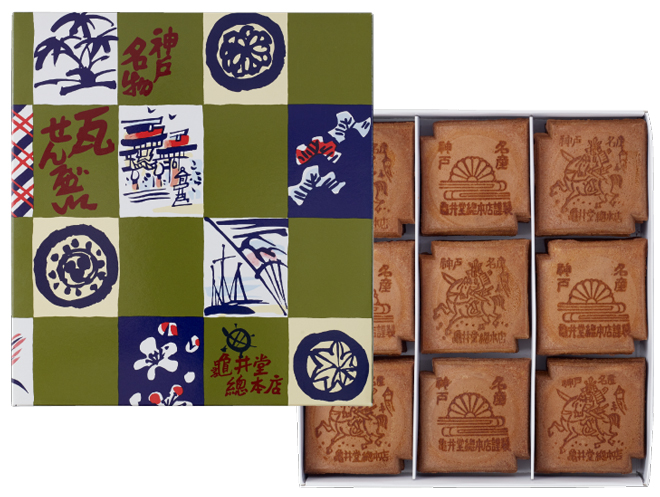 Kawara Cookies (Source: Kameido Sohonten official website)
How nice of Kameido Sohonten to allow us to do a "sneak" direct interview! Luckily, we got an appointment! Usually, their cookie factory is not open to the public, but this time we were specially allowed to observe the process of how the IC-705 Special Kawara Cookies are made. We wore masks and did sanitizing with alcohol spray as a measure to stop the spread of Coronavirus.
Kameido Sohonten is located in the historical shopping district of Motomachi, Kobe, which has more than 140 years of history. Mr. Matsui and Mr. Ikeda welcomed us.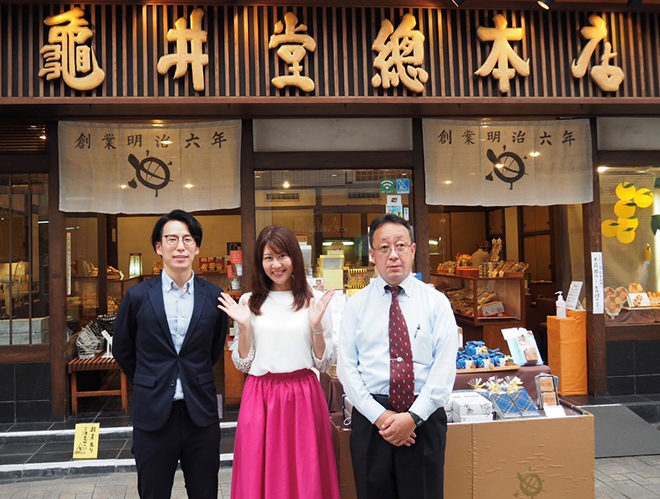 In front of the shop, Mr. Matsui, Masaco, and Mr. Ikeda. (from left to right)
History of Kameido Sohonten
It was 147 years ago that the founder of Kameido Sohonten, Mr. Sasuke Matsui, started the Kawara Cookie shop. The current president is the fourth-generation president, and Mr. Matsui who welcomed us is going to be the fifth in the future.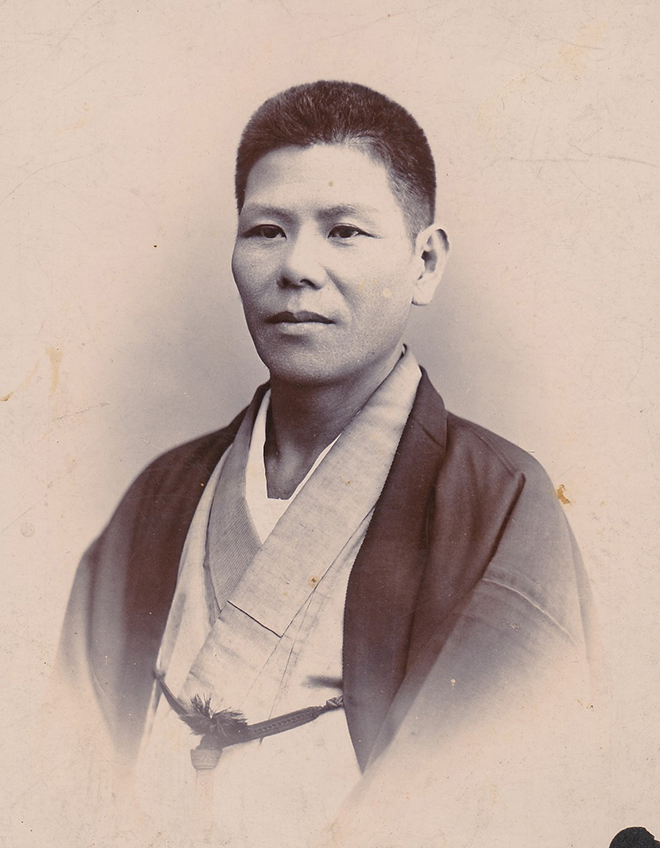 The founder of Kameido Sohonten, Mr. Sasuke Matsui
(Source: Kameido Sohonten Official Twitter)
Kameido Sohonten was established in 1873. During the Meiji Restoration (1868 - 1889), Japan started to open the country to the rest of the world. Since the Japanese government had severed diplomatic relations in the Edo period (1603–1868), people started to be exposed to unfamiliar foreign things in the Meiji period. Kobe was one of the places where many foreigners settled and spread foreign cultures to the Japanese people. As a result, various "the first time in Japan" was born in Kobe such as a golf range, an aquarium, or a jazz music band.
Western confectionery at first could not be accepted by Japanese people because they had been eating Japanese confectionery that is made from rice, sweet beans, or starch powder and so on. The whipped cream and butter that is used in the Western confectionery was very strange to them, and it did not suit their tastes.
The founder, Sasuke was first serving an apprenticeship at a Japanese confectionery shop, but one day he thought, "I want to make a new kind of confectionery that has never been eaten by Japanese!" Then he decided to start his own business with Kawara Cookies, the brand-new Japanese style cookie he created. He considered their tastes, and used eggs, flour, sugar—the same ingredients used in Portuguese castella. In fact, the Portuguese castella was one of the only western confectionery introduced in the 16th century. His cookies were the "cookies with no butter," in other words.
The mild taste of the cookies was loved very much by the Japanese, just as he expected. The excellent reputation of the cookies spread around Kobe, and throughout the country. Because he baked the cookies, they have a long shelf life, and are light and easy to carry. They became established as a souvenir from Kobe.
Now there are many shops that sell the same kind of cookies. This is because Kameido Sohonten let their confectioners become independent, or Sasuke's relatives or friends opened franchise shops. This was Sasuke's policy — "Everyone has a right to enjoy Kawara Cookies." It was Kameido Sohonten that generated a huge Kawara Cookie market in Japan, created an opportunity for Japanese to take the first step toward Western confectionery, and changed the whole confectionery culture in Japan.
The Shape and brand of Kawara cookies
Masaco: I was wondering about the shape of this cookie...How come it looks like a kawara, which is a kind of roof tile that is traditionally used in Japan. For me, cookies are most likely to be a round or a square shaped!
Erii: Yes! that is just what I wanted to ask!
Mr. Matsui: Exactly. When you hear the word cookie, it is quite natural to think of a round or a square shape. During the Meiji period, an egg was worth 700 JPY (about 6.5 USD). A lot of eggs were used when making the cookies, so they were really expensive. Sasuke thought, as a luxury food, there had to be some creativity. Sasuke decided to make them into the shape of a kawara.
Several stories of that origin have been handed down, but here are two. One is because Sasuke's hobby was collecting kawara tiles. Once Hyogo prefecture (Kobe city is located in Hyogo) was the largest manufacturer of kawara tiles, and Sasuke was fascinated by the unique and beautiful Hyogo kawara. Another is because a kawara tile was given as a present when celebrating the building of a new house. The cookie's shape was based on this culture, and Sasuke thought the shape was suitable as a gift from Kobe.
The design branded on the cookie is that of Masashige Kusunoki, a Japanese samurai who lived in the 14th century. He dedicated his life to protect the Japanese government from its opponents. The Meiji government praised his samurai loyalty and enshrined him in Minatogawa shrine in Kobe. Masashige Kusunoki is, so to speak, a great hero for the people of Kobe. Therefore, Sasuke designed his brave figure and branded his image the cookie so that Kawara Cookies could be more loved by many people.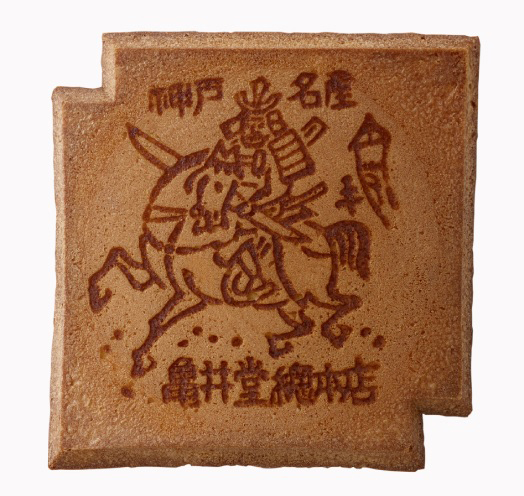 Masashige Kusunoki is branded on the Kawara cookie with the company name "Kameido Sohonten."
(Source: Kameido Sohonten official website)
Masaco: That was a very interesting story. Actually, I have dedicated some of my songs to the Minatogawa shrine. My grandfather, who was a potter, also dedicated one of his ornament pieces of Masashige Kusunoki. I also feel that Masashige Kusunoki is very close to me.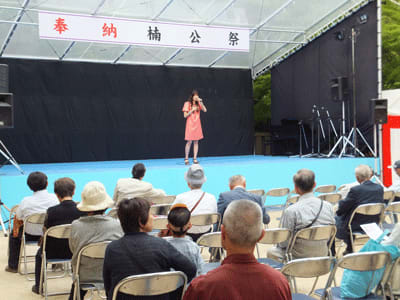 Masaco has dedicated some of her songs to the Minatogawa shrine before.
The origin of the trade name "Kameido Sohonten"
Masaco: You are Mr. Matsui, right? However, the trade name is Kameido...Why it was not named like "Matsuido"? ("—do" is a Japanese word that commonly used in trade names.)
Erii: Wow, Masaco. That is also a great question.
Mr. Matsui: Do you know Sannomiya shrine? Our trade name has a connection to the shrine.
When Sasuke started the business, he was not able to open a shop, and he was at first a street vendor. Sannomiya shrine was the place where he took a short break when he got tired from walking. One day, the chief priest of the shrine talked to him and asked him about his cookies. Sasuke explained his Kawara Cookies and told the priest that he had just started his business. The priest said, "Look at the turtles in this pond. Take slow but firm steps like these turtles. Then your business should be all right." Sasuke was so impressed by the words of the priest that he named his business "Kameido*2." Consequently, he made a great success in his business. Sasuke appreciated the priest and in return, he donated a torii, which is a gate at the entrance of the shrine, and a komainu, which is a lion-dog statue to the shrine. Unfortunately, the torii was broken by Great Hanshin Earthquake but the komainu still exists.
*2 "Kame" is a Japanese word for a turtle.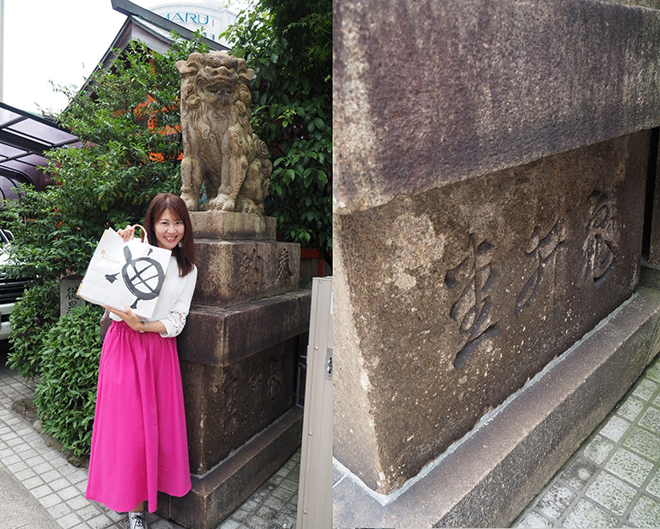 After the interview we visited Sannomiya shrine. Masaco found the komainu statue with "Kameido" engraved on it.
Kawara Cookies as a mean of advertisement
Kameido Sohonten also makes Kawara Cookies as a mean of advertising for various kinds of companies. They brand a company's name on the cookies. Surprisingly, this advertising service started in 1940s! Japan has a traditional culture that they exchange gifts to people who are related to their business, twice a year. Kawara Cookies could be great gifts because people can recognize the company's name on the cookie until the very last moment to take a bite, while other food or drink gifts do not display the sender's name. "We are very glad that Kawara Cookies could be a means of advertisement or communication among companies," Mr. Matsui said.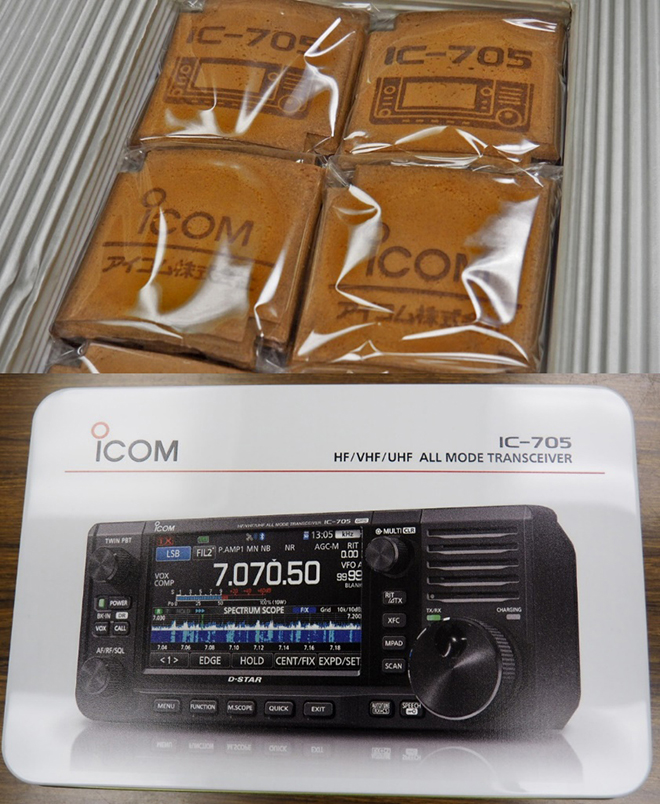 So... these are the IC-705 Kawara Cookies...! The box is beautifully designed by Icom.
In this COVID-19 crisis, Kameido Sohonten are taking an initiative by making Amabie Kawara Cookies, wishing that the virus will quickly disappear. Part of the sales is donated to a charity organization that supports children in Kobe.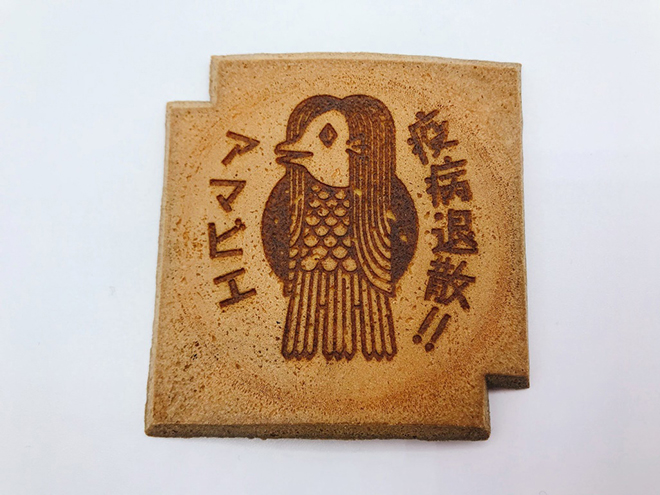 "Go away, Coronavirus!" A character on the cookie is "Amabie", which is a Japanese legendary monster who can protect us from hungers and diseases.
Finally, sneaking into the factory!
After we were taught about the company's history, Mr. Matsui guided us to the factory. We wore caps and sanitized our hands with alcohol spray. As soon as we entered the factory, we were filled with the great smell of the baking cookies.
Masaco: Smells so good! Hello everyone!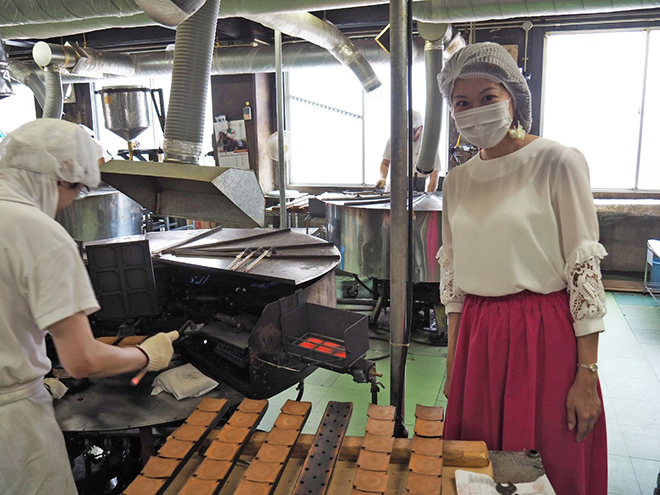 Looks so yummy♡
There are five or six confectioners, and a confectioner makes 8,000 cookies in a day! The cookie dough is automatically poured onto the iron plate, and then a confectioner delicately adjusts the baking temperature. There is where Kameido Sohonten's secret techniques are. Their baking temperature is carefully controlled so that we can taste the delicate sweetness of flour. Of course, all procedures still can be automatically done, but this delicate adjustment requires a human touch. It seems fairly easy, but the branding is another special technique at Kameido Sohonten. Only a proficient confectioner can beautifully brand the cookies, and the training usually takes over a year until they can bake a Kawara Cookie that has enough quality to be a salable product. We heard that one of the confectioners has over a half-century of experience. We were overwhelmed by their techniques.
Erii: Hey, Masaco! Those are the IC-705 Kawara Cookies!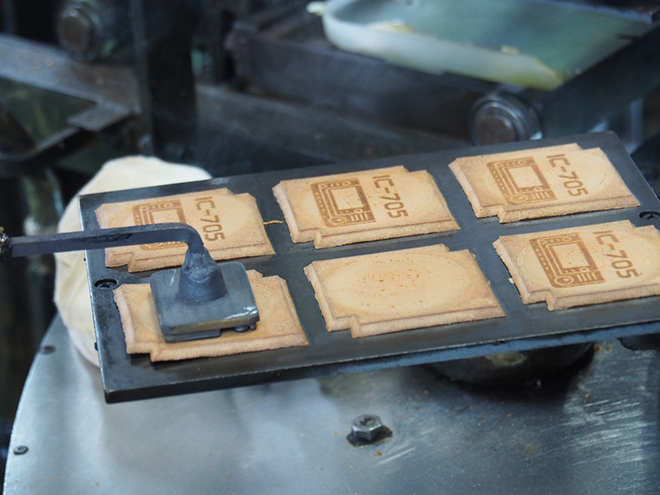 We found the IC-705 Kawara Cookies! We were very lucky to see the branding!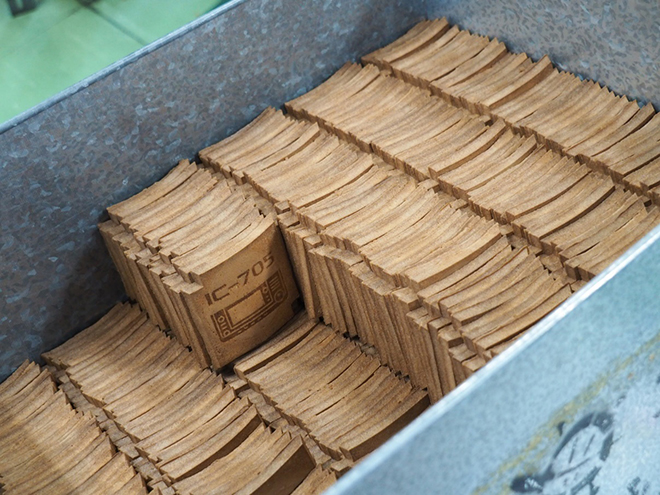 After baking, they are neatly stored in a box.
Confectioner: Masaco, would you like to try this? You have only a minute that you can enjoy the special texture of a freshly baked Kawara Cookie.
Masaco: Yes please! ......(Masaco is eating) Oh, this is so good! The texture is rather soft! It is like just before the cookie become firm!
Erii: I can experience the original texture and the taste of the ingredients more! Very tasty!
As Masaco said, a freshly baked Kawara Cookie is still soft. We are sorry that the FB NEWS readers cannot try this...so here's Masaco's expression instead! You can see how good the cookie is from her smile!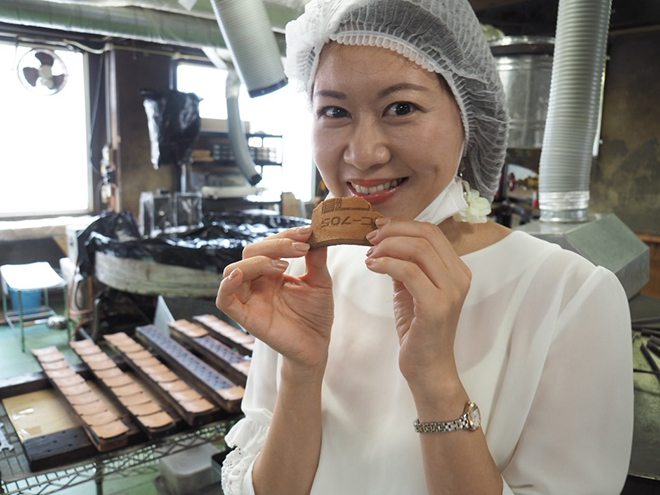 Masaco, tasting freshly baked Kawara Cookie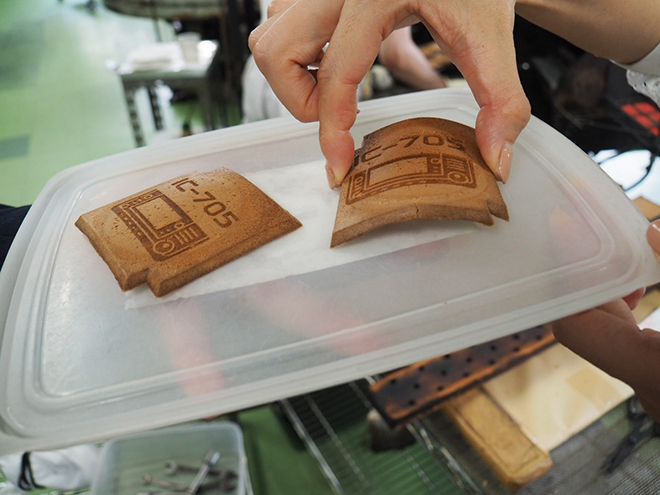 You can even bend the cookie right after it is baked. Be careful, it is very hot!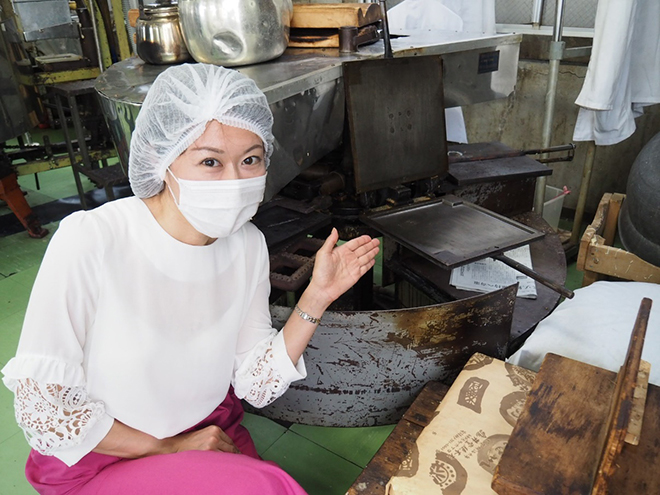 There is also a huge Kawara Cookie that is the same size as a real kawara.
Kameido Sohonten's policy
Lastly, Mr. Matsui who is going to be the fifth-generation president told us his policy and future goals.
"We are proud of the Kawara Cookies our founder created. They have not changed at all for over 147 years. We strongly think that we must hand down the Kawara Cookie legacy for the next 100 years. These days, a lot of things are digitalized, and we think that Analog Kawara Cookies that can fulfill a role as a means of advertising are actually precious. The long history and culture of Kobe are in the Kawara Cookies, and we are lucky that many generations of people love our cookies. Preserving the same taste and Kawara shape as when it was created is our mission."
I see. It is surprising that now we can have a Kawara Cookie that is exactly the same as when it was created. That means our great grandfathers and great grandmothers ate the same Kawara Cookies...wonderful! We are pretty sure the Kawara Cookies' great taste will be handed down to the next generation.
I would like to express our gratitude to Mr. Matsui, Mr. Ikeda, and all other staff members at Kameido Sohonten! Thank you very much for the precious experience at the factory!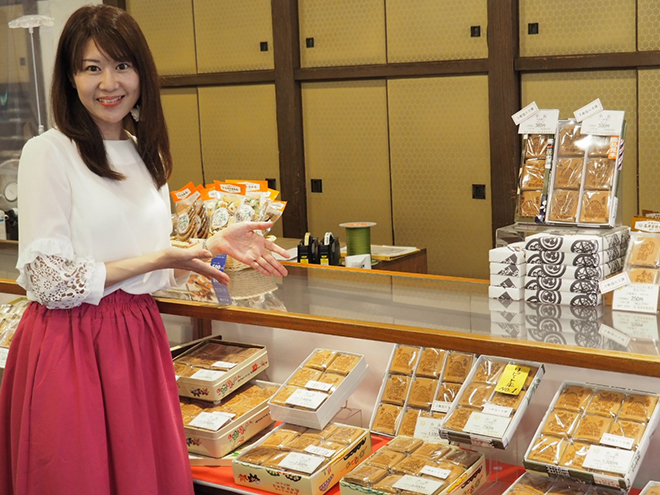 When you visit Kobe, please stop by Kameido Sohonten!
Great Kawara Cookies are waiting for you!
To be continued...