Bruce Lee in VR2BLEE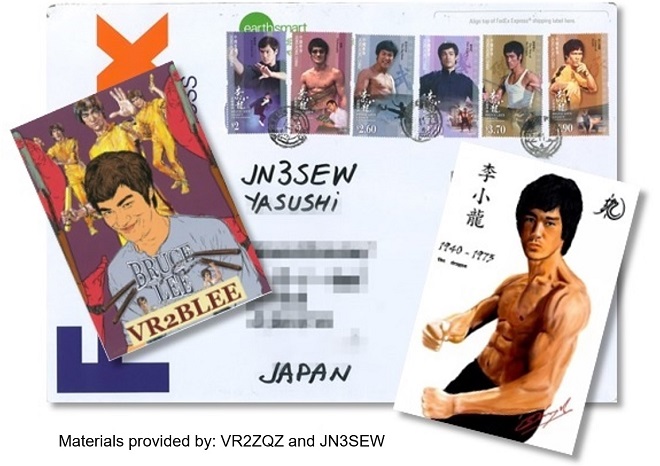 "VR2BLEE, this is JN3SEW... Over."
"JN3SEW, this is VR2BLEE. Your signal is 59. Over."
JN3SEW (reminiscence) __ VR2BLEE is a really cool call sign that truly reminds me of that Bruce Lee. At a little after 5:00 p.m. on May 22 last year (2021), I was watching on 6 m SSB in my room with the IC-705 that I had just purchased. I connected the RHM8B for 7-50 MHz whip antenna that is a Japanese antenna manufacture, Diamond antenna made as shown in Photo 1. Suddenly I heard a buzzing sound in the band, and wondering why, I turned the dial to hear the call sign of VR2BLEE. "Oh, it's a DX station!" As the station, VR2BLEE turned to stand-by, I could hear many JA stations calling VR2BLEE, and even though I thought that my signal wouldn't reach the station because of 5 W QRP and whip antenna, and the rig and antenna was set at the room but I challenged to call. To my surprise, the station called back to me. I remember that I was very excited for a moment.
We exchanged RS reports and the QSO ended. It was an instantaneous event. A net search for VR2BLEE's call sign revealed that it was a special memorial station in Hong Kong, which made me even more excited for my first DX QSO. There was information on QRZ.COM and I found that they also issue special QSL cards and awards. Of course, I requested one, and recently received the QSL card by air mail.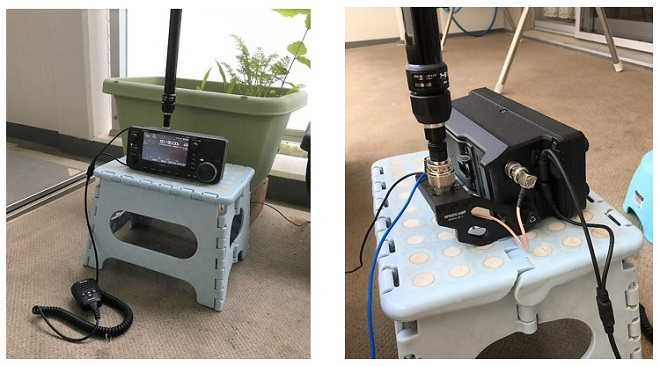 Photo 1. JN3SEW shack (IC-705 connected to RHM8B, Diamond antenna)
The above is a news that Yasushi (JN3SEW) sent to the editorial office. We took this opportunity to ask Mr. Igor, VR2ZQZ, who was mainly operating the VR2BLEE memorial station, for an interview by e-mail.
Mr. Igor (VR2ZQZ)
Mr. Igor is a main operator of the station. His personal call sign is VR2ZQZ and he is actively QRV on HF. Unfortunately, although the DX condition has entered cycle 25, it has been still poor and his signal can only be heard on Es on HF high bands. As the conditions will gradually improve, JA stations will have more chances to make QSOs with him.
By the way, Mr. Igor is the one who came up with the idea of opening the VR2BLEE memorial station. He was busy every day with inquiries to the authorities in preparation for the opening of the station and making plans in preparation for the operation. Since the operation of the memorial station would take a long time, he asked some amateur stations in Hong Kong to help him with the operation of VR2BLEE, but he had a hard time getting the approval of many amateur stations. However, he was happy that several people helped him and he was able to communicate with many stations.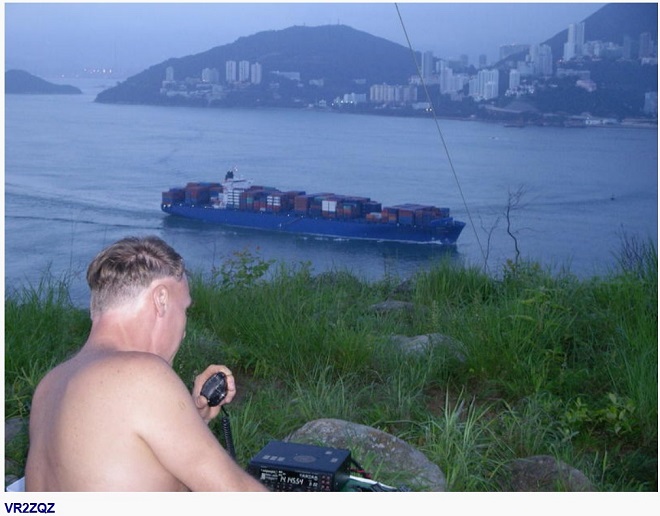 Photo 2. Mr. Igor (VR2ZQZ) operates VR2BLEE
Bruce Lee Memorial Station
The special memorial station VR2BLEE was operated in the 7-50 MHz band for six months from February 23, 2021. Since this was the 80th anniversary of Bruce Lee's birth. The adoption of a call sign such as VR80〇〇〇〇 was actually considered, but there are no call signs allocated in Hong Kong other than VR2, and if a prefix in the call sign for VR80 was to be assigned, it would have to be applied for Beijing, mainland China. As a result, the call sign was VR2BLEE, but it became a memorial call sign suitable for recalling Bruce Lee.
Meanwhile, outside of amateur radio, Bruce Lee Memorial Day was broadly celebrated in Hong Kong. Bruce Lee is probably an only Hong Kong person whom everybody loves. Bruce Lee unites poor and rich, pro-Beijing and Democrats, young and old, Chinese and Western residents and Hong Kong and overseas. It would not be any other person in Hong Kong history who may come close to Bruce Lee popularity.
Operation of VR2BLEE
Mr. Igor (VR2ZQZ) and Benedict Chak (VR2VVR), members of VR2CS (1555th Kowloon Group), a club station in Hong Kong, took the lead in the operation of the VR2BLEE memorial station. John Tsui (VR2GP) helped several times for CW operation, but most of the operation was done by VR2ZQZ (Mr. Igor).
The total number of contacts in all bands was about 11,000, and they made 108 DXCC contacts on mainly CW but also SSB, and about 8,000 contacts with JA stations including the 6m operation. The operation coincided with the Es summer season, and on 6m, about 1,200 JA stations, including SSB and CW stations, were contacted, and in the Russian DX contest during the operation period, he took the second place in the term of 15m LP.
The VR2BLEE Award shown in Photo 3 was issued to 232 stations, most of which were JA stations, and the support of his wife (Titi/ YD2AAD) was very helpful in the operation of VR2BLEE, he mentioned.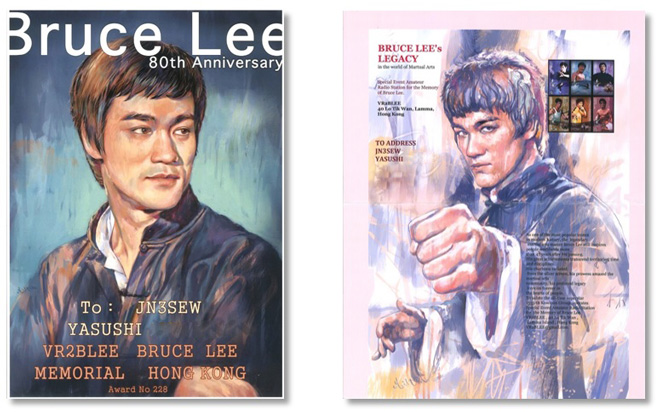 Photo 3. Left: VR2BLEE's award for the 80th anniversary of Bruce Lee's birth (size: A4)
Right: Poster promoting VR2BLEE in memorial of the 80th anniversary of Bruce Lee's birth (size: A3)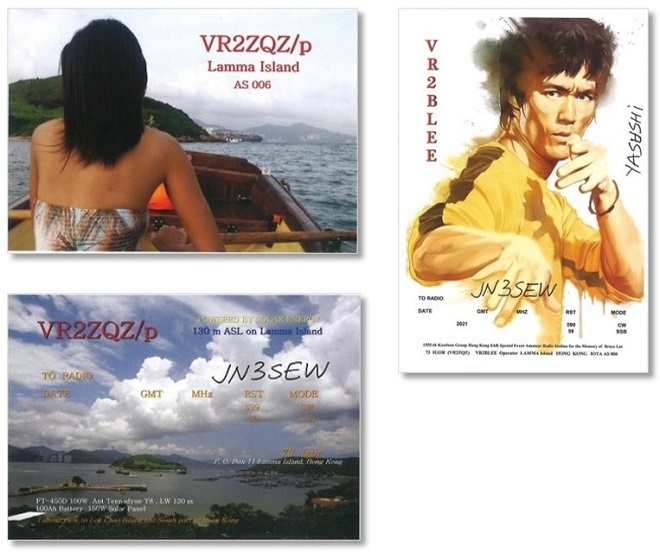 Photo 4. Left: VR2ZQZ's personal QSL card
Right: VR2BLEE's memorial QSL Card
Shack and antenna of the station, VR2BLEE
VR2BLEE operation was mainly conducted at Mr. Igor's shack shown in Photo 5 located on a hill in the suburbs of Hong Kong. Two wire antennas, one 40 m and the other 20 m, were installed in the shack, and their directivity was oriented toward JA. Elements have traps for 7 MHz, 10 MHz, 14 MHz, and 21 MHz installed, and the SWR seems to be good for all bands. 18 MHz, 24 MHz, and 28 MHz are supported via ATU, and each of them seems to reach JA stations with strong signals. He also used a dual-band Yagi antenna for 24/28 MHz and a 28 MHz, 8-element monoband Yagi antenna.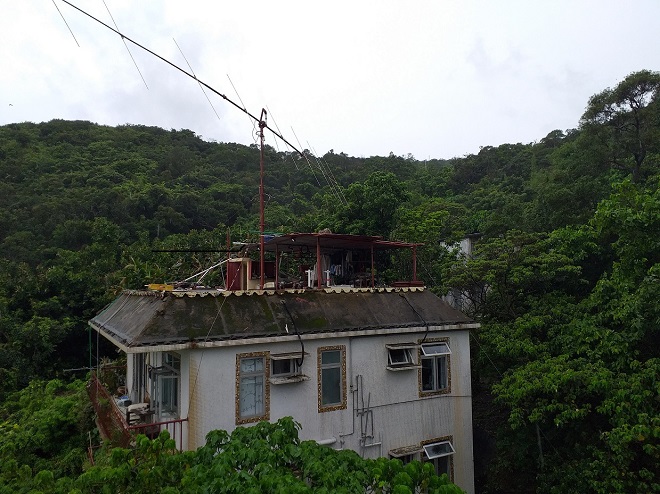 Photo 5. The shack on a hill. Antenna is a 9-element Yagi for 50 MHz.


Photo 6. Antennas at the VR2ZQZ station
Left: Yagi antenna for 24 MHz (3-element)/28 MHz (7-element). Boom length: 14 m
Right: 8-element Yagi antenna for 28 MHz. Boom length: 18 m
QSP from Mr. Igor
Mr. Igor said that he was grateful to many JA stations for calling him, and that QSL card requests can be found on the VR2BLEE page of QRZ.COM, https://www.qrz.com/lookup/VR2BLEE
He also said that unfortunately all the memorial stamps of Bruce Lee had been used up for the QSL cards issued in this event, and that they would be replaced by regular stamps in the future. He also said that they are receiving requests for QSL cards from all over the world, and although they are responding quickly, it is taking about two months to send them out, so please be patient.
Possibilities of memorial station for 90th anniversary of Bruce Lee's birth
Mr. Igor said that he would like to thank JE2EHP (Mr. Yoshiaki Tsutsumi) for his personal help in promoting this event. He also thanked the many JA sponsors who funded the QSL card replacement for the VR2BLEE station.
Finally, I asked him about the possibility of "VR90BLEE." He replied, "Sorry, I can't say for sure, because I have a lot of personal things going on. But it probably won't happen. He replied, "I don't know.
Thank you very much for his service not only to JA stations but also to many other stations around the world during this period. And thank you also for Yasushi, JN3SEW providing the news. TU
Topics from Around the World backnumber