Report from Thailand
First US FCC Amateur Radio License Examination in 2020
RAST Celebrates 2020 with a New Year Party
First US FCC Amateur Radio License Examination in 2020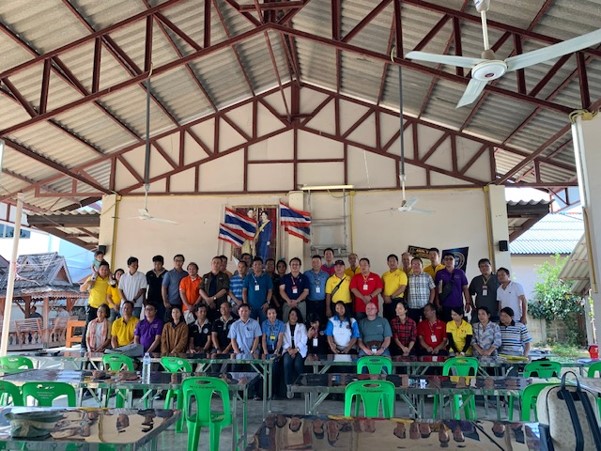 First US FCC Amateur Radio License Examination in 2020 was held on January 4th, 2020 in Chiang Rai, Thailand. Same as every year, Thai VE Team from Radio Amateur Society of Thailand (RAST) always plan to have session during winter season in Northern Thailand. During winter season most tourists are going to Northern Thailand to sense the nice weather. The temperature during this time in Chiang Rai will be around 10-13Cwith very beautiful Flower Festival in Chiang Rai.
The location of Exam was not far from White Temple, which is a very popular and very nice Temple in Chiang Rai. The actual name is Wat Rong Khun. Thai VE Team together with Chiang Rai DX & Contest Group, E28AI prepared and setup the Test session at the local community hall in San Klang Village.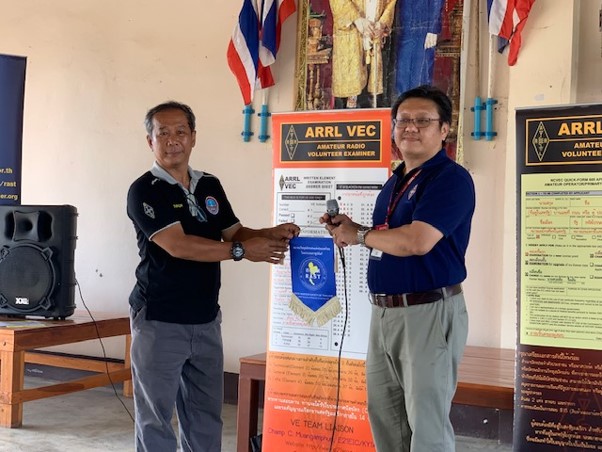 HS1FVL (right), president of RAST, giving the RAST Flag to HS0KQR (left), president of Chiang Rai DX & Contest Group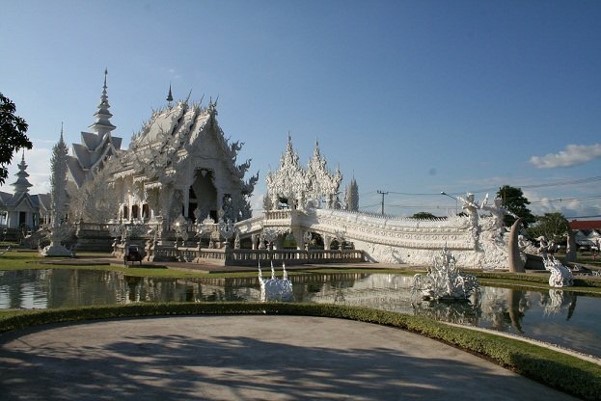 Wat Rong Khun
Thai VE Team by RAST are planning to have US FCC Amateur Radio License Examinations in Thailand, 4-5 times per year, which will be in Bangkok, and other provincial parts of Thailand. Examinees who pass exam in any classes also use FCC License to upgrade their Thai License to higher class, like they do in Japan.
At this FCC Session in Chiang Rai have total of 24 examinees and 15 VEs came from 3 countries, which are USA, Germany, and Thailand. Most of them are tourists from Bangkok.
The Exam session went well. We've got 6 Technician Class Licenses, 4 General Class Licenses, and 5 Extra Class Licenses through this session. Two out of 6 examinees who got Extra Class were joined FCC Exam for the first time, and they've done One Day Extra. The one was a woman who graduated from UK and has experience in 24 hours contest with her team members while she was in England. She made all 3 sessions with full marks. Her callsign was E25KAE, Nattnee and she's now got US license as AD8FJ.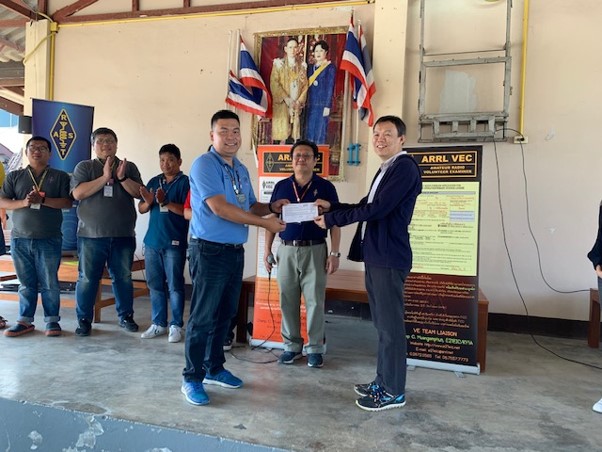 Mr. Somsak Siripattanakul (right), Director of The NBTC Radio Communication Licensing, receiving Extra Class CSCE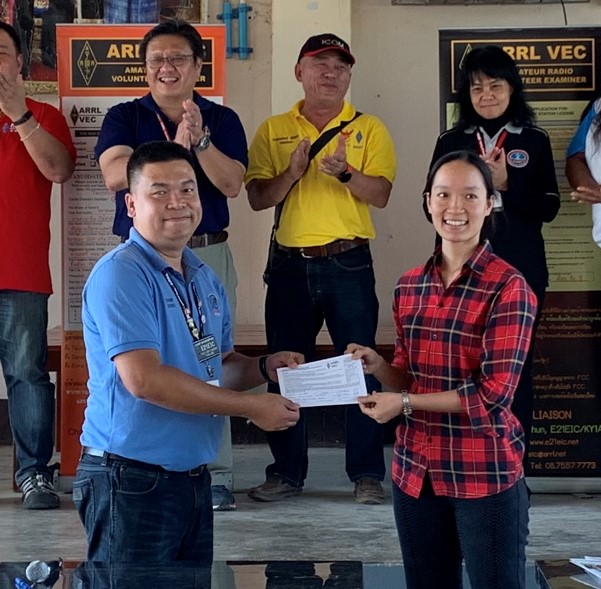 E25KAE (right) got "One Day Extra"
RAST Celebrates 2020 with a New Year Party
Radio Amateur Society of Thailand (RAST) celebrated New Year Party on Jan 12th, 2020 at Rot Meu Mae Restaurant in Bangkok. It started from 12:00 am. With an activity of Antenna Kits assemble, anyone who is interested in assembling it can join and learn how to make it by their own. This year the Antenna kits were Magnetic Loop Antenna for 40 m-15 m. We prepared 22 sets and a lot of people joined and finished assembling.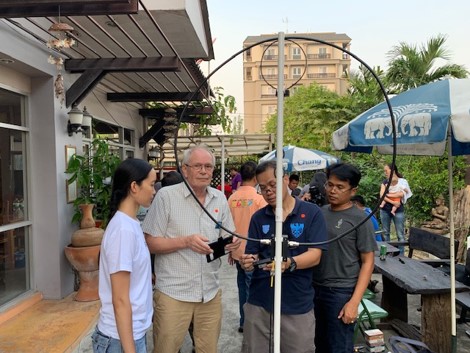 Magnetic Loop Antenna for 40 m to 15 m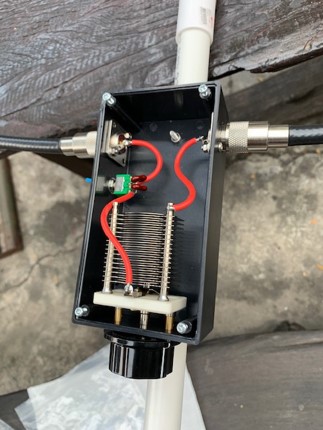 Matching section
Actual New Year Party started at 17:00pm, which was announced by Dr. Jakkree Hantongkom, HS1FVL, President of RAST with Thai Food Buffet Dinner includuing beverages. A Total of 80 people in this party all enjoyed Gift Exchange, Lucky Draw form RAST. The party was full of joy and happiness from all participants until the end of party around 8:30 pm.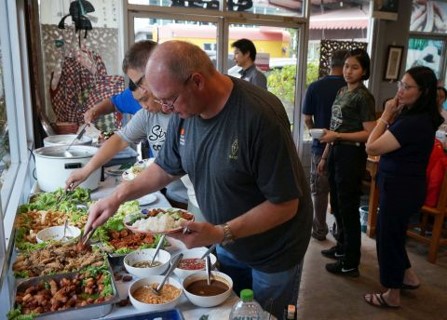 Thai Food Buffet Dinner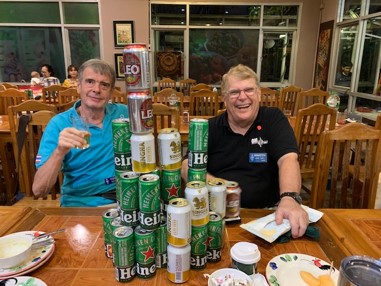 Drunk a lot! (HS0ZDX, HS0ZDJ)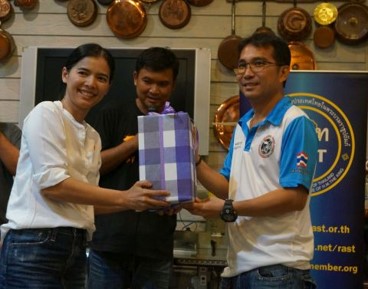 Lucky Draw from RAST