Report from Thailand
JA Hams visited E20AX Club Station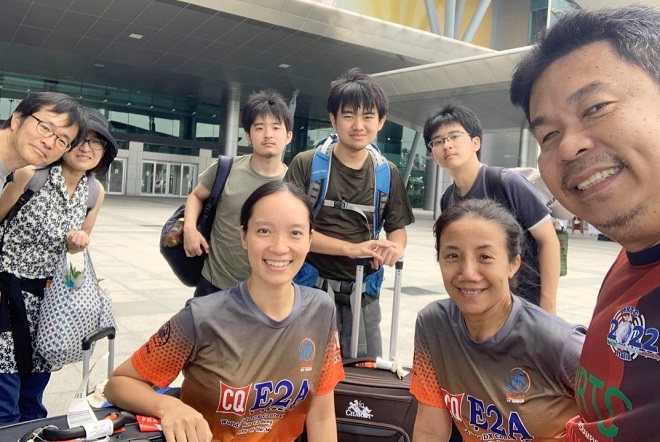 Figure 1. (L-R) Kuny 7L1FPU (W1FPU) and his XYL, Mitsuki, Bun E25KAE, Yoshiki JF1UCV (KH0UA), Hiroki, JC E20NKB, and Champ E21EIC outside Krung Thep Aphiwat Central Terminal Station on 4th September 2023
Following on from the JARL Ham Fair 2023 which took place just 2 weeks ago, we welcome our dear friend Kuny San 7L1FPU (W1FPU), his wife and his three sons to Bangkok and E20AX Siam DX Group Club Station. They planned to visit Thailand South East Asia once again only this time their visit happened to coincide with the All Asian DX Contest SSB so we all decided to mix in some sightseeing, enjoyed delicious food, and QRV in the contest.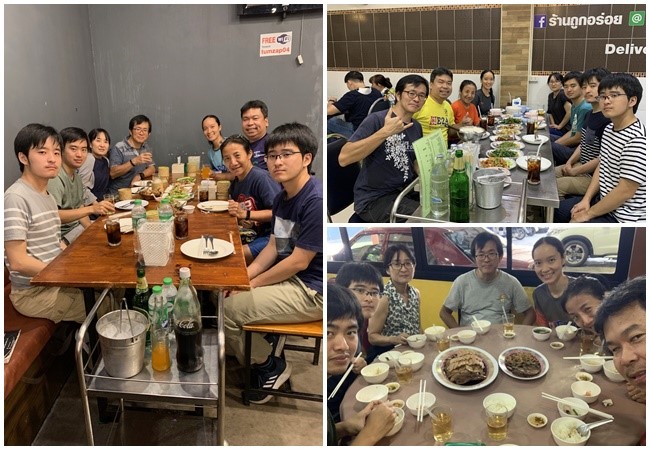 Figure 2. Enjoying delicious Thai-Chinese food with Kuny 7L1FPU (W1FPU) and his family
Aside from the amazing food, low cost of living, and the warming hospitality of the Thai people, Japanese tourists who come to visit Thailand are particularly interested in our history, arts and culture, and are always keen to visit all the historical sites. Thailand is also well-known for its white sandy beaches and its relaxing lifestyle. Japanese people love to get spa treatments when they get the chance, and not to forget, shopping and golfing!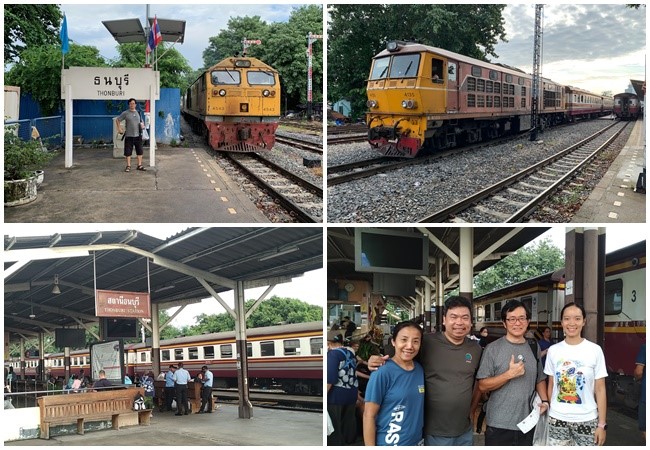 Figure 3. Dropping Kuny 7L1FPU (W1FPU) and his family off at Thonburi Station as they take the train to Kanchanaburi
For Kuny 7L1FPU (W1FPU) and his family, they first travelled to Kanchanaburi province which is located in the west of Thailand, around 130km from Bangkok. They travelled by train No. 257 Thonburi – Waterfall, departing from Thonburi station in Bangkok at 07:45am and arriving at the Waterfall station in Kanchanaburi at 12:35pm.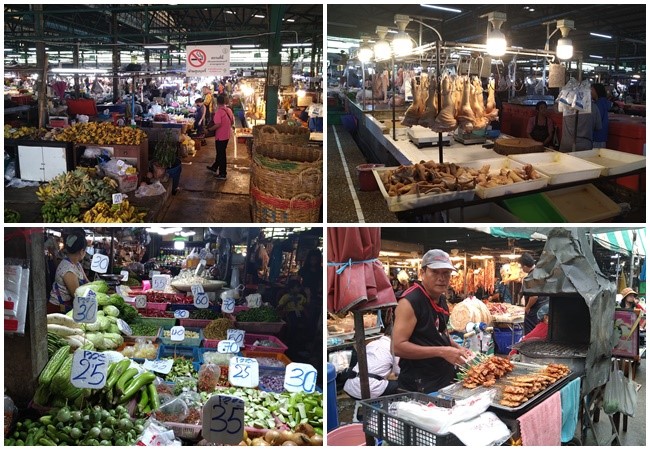 Figure 4. Taking Kuny 7L1FPU (W1FPU) and his family around the Thonburi station fresh market, and buying some grilled pork and sticky rice for their train journey to Kanchanaburi
Kanchanaburi province has many interesting historical relations to Japan. Nam Tok Railway or Kanchanaburi Railway, also called Burma Railway or Death Railway, was built during World War Two by approximately 200,000 Asian slave labourers and 60,000 Allied prisoners of wars (POWs) taken by the Japanese. The purpose was for the Japanese army to avoid the hazardous sea journey around the Malay peninsula when they need to re-supply their forces that were stationed in Burma. With this railway, the Japanese army had direct land access to Burma from Thailand. The construction was done under hardship and in difficult terrain. The project was completed in 16 months stretching 400km from Ban Pong, Thailand to Thanbuyuzayat, Burma on 25th October 1943, and came into use on 25th December that same year. As many as 106,000 people died in the ordeal through exhaustion, maltreatment, sickness and starvation. 80 years later, tourists can visit the site to learn about the tragedy that took place, and pay respect to those who have lost their lives.
Some of the main attractions include:
• The Bridge Over the River Kwai – world historical site for WWII, and also serves as the Asia-Pacific World War memorial
• Thamkra Sae Bridge – a 400m of railway track along the cliff face of steep mountains beside the river
• Thamkra Sae Cave – believe to be the resting area for POWs during the construction phase
• Hell Fire Pass Memorial Museum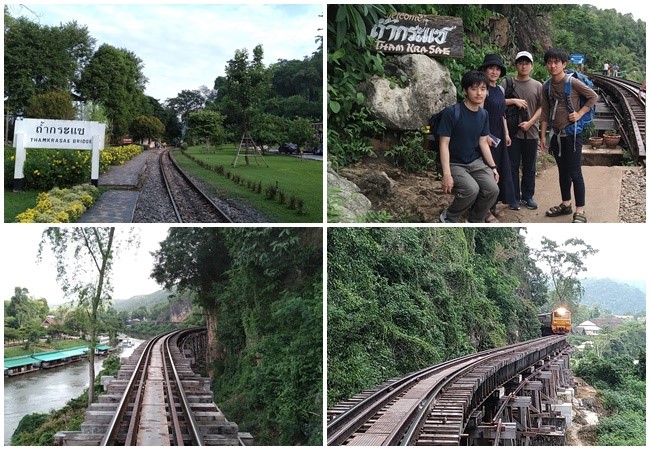 Figure 5. Kuny 7L1FPU (W1FPU) and his family arriving in Kanchanaburi and visiting Thamkra Sae Cave and the Death Railway
Kanchanaburi province itself also boasts many interesting places that are worth a visit:
• Kanchanaburi War Cemetery (Don Rak) is the main POWs cemetery for almost 7000 victims who have perished underneath Japanese imprisonment while building the Death Railway
• Erawan Waterfall is located in Erawan National Park, this 7-tiered waterfall with emerald green ponds that visitors are allowed to swim in is one of the most popular waterfalls in Thailand. The total distance from the bottom to the top tier through a series of trails and footbridges is nearly 1.5km. The ideal time to visit is during the weekdays and early in the morning to avoid the crowds.
• Mon Bridge, also called Uttamanusorn Bridge, is the longest wooden bridge in Thailand and the second longer in the world, measuring 850m in total. It spans the Songaria river. The construction of the bridge was the brainchild of Luangpho Uttama, a Mon monk who was an abbot at Wat Want Wiwekaram in 1986 to provide a walking passage for the ethnic Mon and Thai people.
• Three Pagodas Pass is a land border crossing between Thailand and Myanmar. During the Ayutthaya Period, this passage played an important military role in the Burmese-Siamese war in 1594-1605.
• Prasat Mueang Sing Historical Park is located in Sai Yok District, is home to the remains of two Khmer temples dating back to the 13th and 14th centuries.
• Floating resorts along the River Kwai where multiple rafts are tied together in a long chain. The resorts usually offer no electricity, air conditioners, or internet service. Being disconnected from the outside world and away from all the pollution, guests can fully enjoy the tranquillity of their surroundings. The most fun part is jumping into the river and letting the current take you at its own pace. Just make sure you always wear a life jacket!
• Vajiralongkorn Dam (a.k.a. Khao Laem Dam) is located in Thong Pha Phum District as part of the National Park, and is Thailand's first hydroelectric dam. The concrete dam is 92m high, 10m wide, and stretches 1,019m in length across the River Kwai. The reservoir can hold 8,860 million m3 of water, and produce 300MW of hydroelectric power. With the scenic views in the background, guests can enjoy their time on this 388km2 lake through boat tours, swimming, fishing and birdwatching.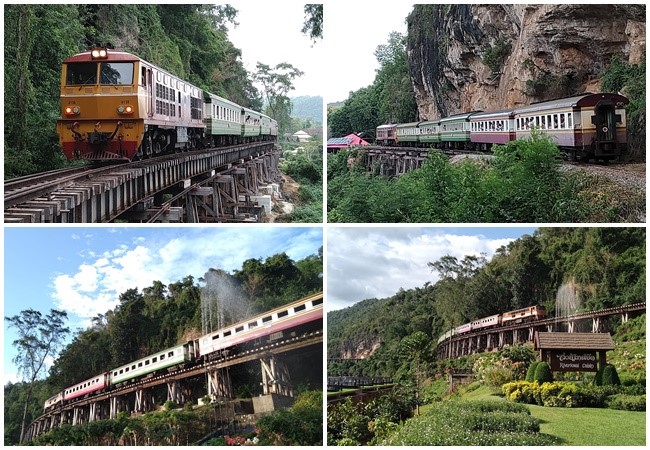 Figure 6. More pictures of the Death Railway and Thamkra Sae Bridge
Kuny san 7L1FPU and his family arrived in Bangkok on the evening of 2nd September 2023. After enjoying dinner together, Yoshiki san KH0UA/JF1UCV joined E2A in the All Asian DX Contest SSB under Multi-Single category. We had 3 operators in total: Bun E25KAE, Yoshiki KH0UA, and Champ E21EIC.
Yoshiki san JF1UCV (KH0UA) started his journey in HF world of contests at 8 years old under the watchful eye of his father and the Saipan BBQ Contest Club Team, AH0BT. Readers can see video clips of Yoshiki's time on the air at the following link:-
●AH0BT AADX SSB Contest 2009: https://youtu.be/S3OW_Onfud8?si=FE-4BcVXbpaqJiVs
●KH0UA CQ WPX SSB Contest 2010: https://youtu.be/U48LpNsykGk?si=vlT66n0poSDp8K5J
Yoshiki san actually came to visit Thailand earlier on this year. He came to conduct his research about dangerous traffic points in Asia and stayed over at the author's house as well as visit a friend in Lumpang. Yoshiki also had some chance to operate from E20AX Club Station in Bangkok at that time.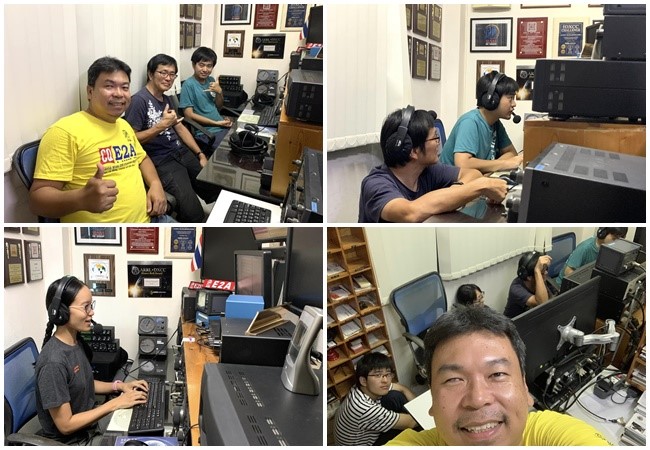 Figure 7. Yoshiki san JF1UCV (KH0UA) and Bun E25KAE operating in the All Asian DX Contest SSB 2023
As for the All Asian DX Contest SSB 2023, our E2A team made a total of 1,386 QSOs, 195 multipliers, and a total score of 661,245 points. We only managed to operate 22 of the 48 hours allocated as we spent some time sightseeing in Bangkok and enjoyed delicious meals with Kuny's family.

Figure 8. Pictures of Yoshiki san JF1UCV (KH0UA) (Top left) in 2016 at his house in Yokohama (Top right) in 2016 at Suvarnabhumi airport in Bangkok, and 7 years later (Bottom left and right) at E20AX Club Station in Bangkok. He has grown up to be a fine young man!
On Monday 4th September 2023, we took Kuny's family to Bang Nam Phueng Floating Market in the morning. The market is only 10km away from E20AX Club Station. We spent 1.5hrs strolling around the market, trying local desserts, and buying small gifts for friends and family. For lunch, we toured back to the club station to enjoy a Thai-Chinese cuisine at Tow Phochana. This restaurant is famous for its tender duck meat and stir-fried duck blood. The queue is always long and we were lucky to grab the last duck for the table. Afterwards, it was time to say goodbye as we dropped Kuny san 7L1FPU/W1FPU, Yoshiki san JF1UCV/KH0UA and their family off at the Krung Thep Aphiwat Central Terminal Station (a.k.a. Bang Sue Grand Station) as they continued their journey to the Southernmost part of Thailand, Sungai Kolok Railway Station, before crossing the border into Malaysia where they spent another week on holiday there before returning to Japan.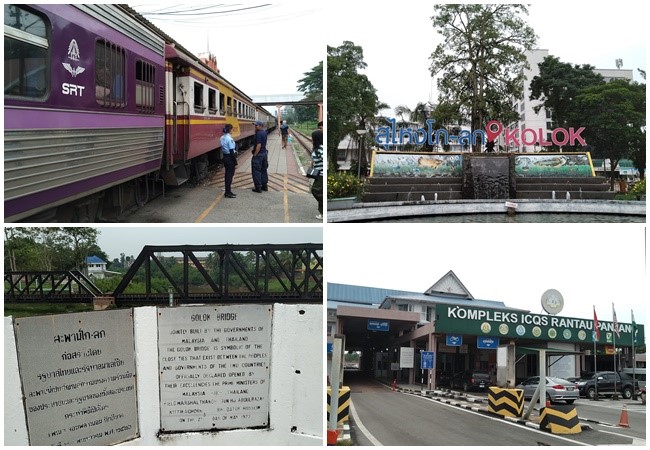 Figure 9. Pictures of Sungai Kolok Railway Station and Golok Bridge at the southern most of Thailand which borders Malysia
Krung Thep Aphiwat Central Terminal Station is the new train station that has come to replace the Hua Lumphong Station after 107 years of operation. All the intercity long-distant routes to the North, South, and North East are now departing from Krung Thep Aphiwat Central Terminal Station instead as Hua Lumpong Station is being faded out in favour of commercial development.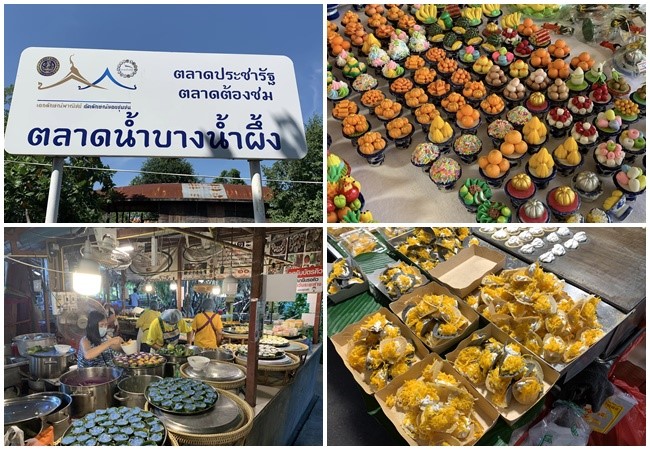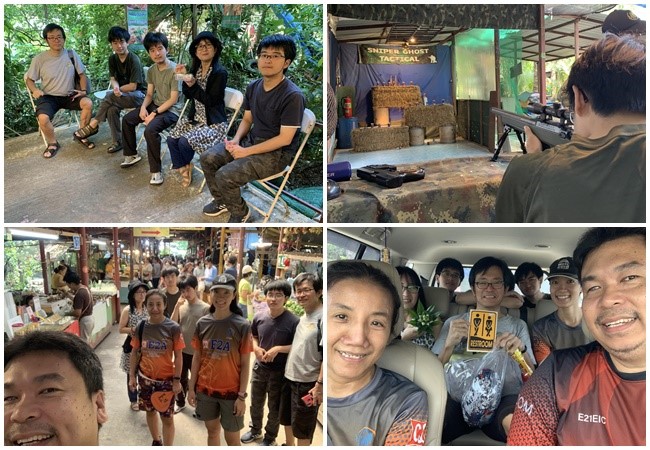 Figure 10. The atmosphere at Bang Nam Phueng Floating Market as we took Kuny 7L1FPU (W1FPU) and his family for a morning stroll
We hope to welcome Kuny and his family back to Bangkok again in the future!